» Buyers Guide » Mercedes Benz Convertibles
Mercedes Benz Convertible Cars: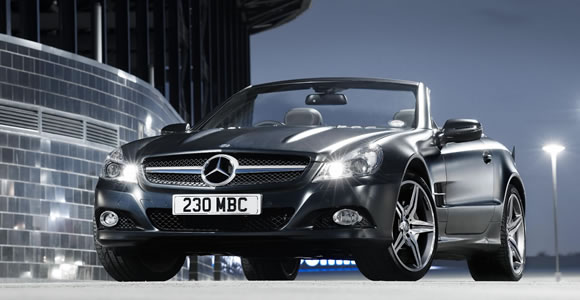 Mercedes Benz has one of the most illustrious histories in motoring. Its origins can be traced back to Karl Benz – the creator of the very first petrol powered car. The Mercedes brand name was first used in 1901 by Daimler-Motoren-Gesellschaft while the first Mercedes Benz branded cars did not appear until 1926.
Convertible Mercedes have been available throughout this long history but a wider range are made today than ever before. Drivers can choose from anything from the compact 2 seater SLK roadster to the family sized E-Class convertible with ample seating for four. There has even been talk of a large S-Class based four door convertible. The concept known as 'Ocean Drive' was given the go-ahead back in 2006 but it appears to have been another victim of the global recession. A C-Class Convertible is rumoured to be introduced based on the current coupé with 2+2 seating, to fit between the larger E-Class and SLK Roadster in size. Like the E-class It is expected to use a fabric roof rather than the folding hardtop seen on the SLK and SL.
At the upper end of the range is the Mercedes Benz SL luxury sports car and the SLS AMG Roadster super car. Both have massive power on tap but the SLS is the more performance focused of the two while the SL suits drivers who require the comfort and luxuries to make the car suitable for long journeys and every day use.
Select a Mercedes Benz convertible:
Full details of the updated new Mercedes S-Class Cabriolet have been revealed for introduction in 2018. The biggest change is a new range of engines.

Mercedes has faith in the convertible car it seems, with the E-Class Cabriolet filling the last gap in their range of 6 different models. This one takes the middle spot in their range of four seat convertibles.

The Geneva Motor Show sees a launch of the first compact convertible Mercedes since the CLK finished production in 2009. The new Mercedes C-Class Cabriolet looks much like a baby S-Class Cabriolet with modern yet elegant lines.