» Buyers Guide » Peugeot Convertibles
Peugeot Convertible Cars: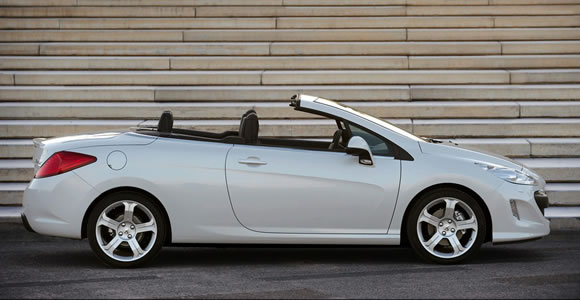 The very first production hard top convertible car was the Peugeot 402 Éclipse Décapotable in 1935. In more recent years the same company helped to make this innovation accessible and affordable, selling thousands of 206 and 307 CCs and later the 207 and 308 convertibles. In 2006 Peugeot showed the world's first four door convertible with a retractable hardtop. The car named the Peugeot 407 Macarena was built by French coach-builder Heuliez but never made mass production.
Peugeot convertible cars are now among the top selling in Europe due to their blend of open top fun with reasonable prices and practicality.
Select a Peugeot convertible:
Peugeot Convertible Buyer's Guide
The Convertible Car Magazine Buyer's Guide is a reference to the production convertibles currently available. Here we look at the range of Peugeot convertibles produced in recent years. Each car has it's own page with a brief review, full specifications and large images. See our News section for information on the latest convertible Peugeots before they reach showrooms.