» Buyers Guide » Renault Convertibles
Renault Convertible Cars: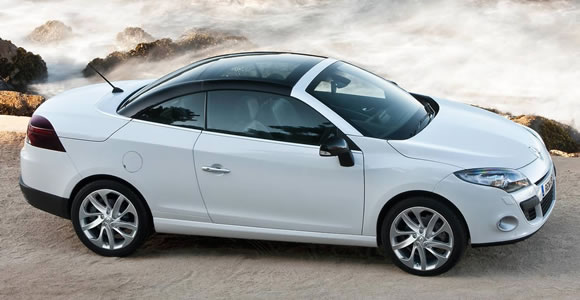 Renault were fast to develop a hardtop convertible car as the trend gained momentum. Their Megane Cabriolet also stood out in the market for using a glass roof rather the metal used by its competitors. If you wanted a glass roof convertible by any other brand you would have to spend 4 times as much on a Mercedes SL (even then it was an expensive option). The latest convertible Renault Megane keeps this key feature while improving on the dynamics of the car. The company also moved into the small convertible car market with the sporty little Renault Wind.
Select a Renault convertible:
Renault have updated their Mégane Coupé-Cabriolet with their latest brand look. The new front end styling keeps the Coupé-Cabriolet up to date with the hatchback, coupe and Sport Tourer models.

The Renault Zoe is one of the first genuinely attractive electric vehicles that could fit into the budget of the average European, and as a result the French brand is capitalising on its popularity. Their latest step has been to quiz its Facebook fans how they would react to a convertible version.

Gordini is a French motor racing brand that dates back to the 1950s when Amédée Gordini a Formula One racing driver and engine tuner built Renault based competition cars with a famous French Blue colour scheme and trademark twin white stripes.