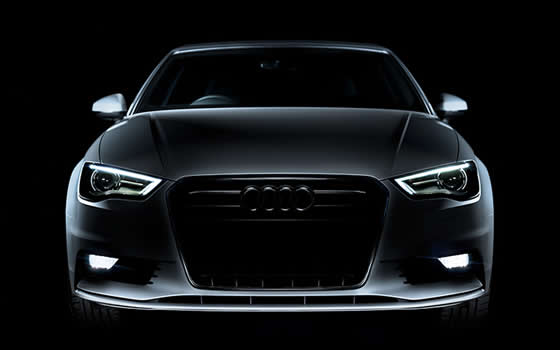 While the previous generation Audi A3 always carried the label of being a posh VW Golf, the new Cabriolet feels like a classic Audi. So much so that it is easy to make comparisons with the old A4.
It was the A4 Cabriolet that made Audi a key player in the convertible market and it did this through thorough engineering. It made the benchmark BMW 3-Series of the same generation look a bit old fashioned with an angular roof that always makes me think of old-fashioned prams. The Audi A3 Cabriolet is, of course, a touch smaller than the A4 but the shape and the well thought out design remains. It comes with all the classic ingredients, but there is innovation under the skin that brings it right up to date.
The chassis is based on the MGB Platform which is a hugely versatile design aimed to be used for a whole range of cars; not just the Golf but larger Coupes, Sedans and SUV Cross-overs. So while cynics might say this is another Golf based car they could just as easily say there is a Skoda Octavia underneath the bodywork.
The platform was created with convertibles in mind and provides a good solid, platform with the only sign of flexibility found when checking the rear view mirror when passing over rutted road surfaces.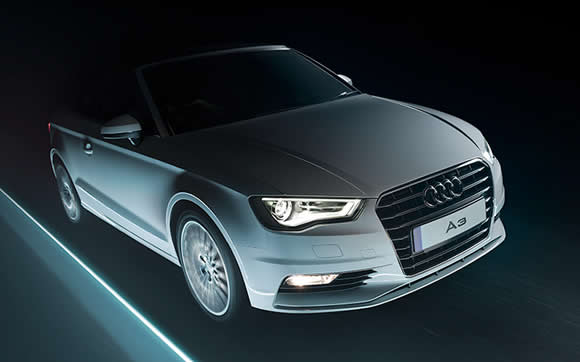 Power
Diesel convertibles have become increasingly popular for their fuel savings, but they can also be noisy and polluting, two things that are very much at odds with open-top driving. Car manufacturers have realised this and in addition to exploring all sorts of futuristic power sources they have done some very clever things with the humble petrol/gasoline engine. In the A4 Cabriolet's time, a car like this would have a 2 litre normally aspirated engine and manage perhaps 30 miles to the gallon. Instead, this A3 has a combination of technologies that allow a smaller, lighter but equally powerful engine that covers nearly twice the distance on the same amount of fuel.
The model name reveals its secrets – Audi A3 Cabriolet 1.4 TFSI CoD. In translation, this means that it is a small capacity petrol engine using direct fuel injection, a turbocharger and has Cylinder on Demand. CoD first appeared in big-engined limos and sports cars, but it has now found its way into more attainable cars. The idea of dropping two cylinders when they aren't needed sounds simple, but the reality is far more complicated involving doing clever things with sensors, valves and camshafts. The result is a system which pleasingly goes unnoticed during driving, save for a small LCD reminder on the dashboard. Press the throttle and the engine springs back to life in an instant and smoothly accelerates with no sign of what just happened.
The result is an official combined cycle 56.5 mpg. That is the sort of figure that challenges diesel and hybrid engines without the dirty fumes or the toxic batteries. It may not be the future but it is a step in the right direction.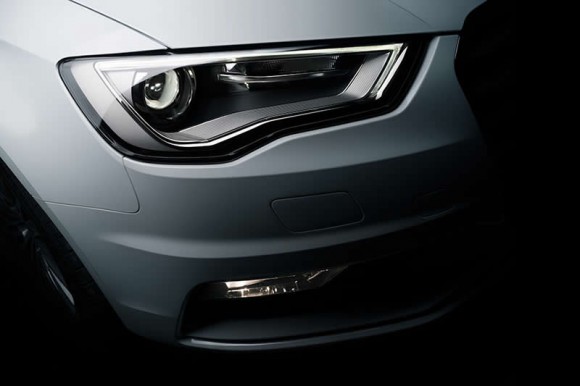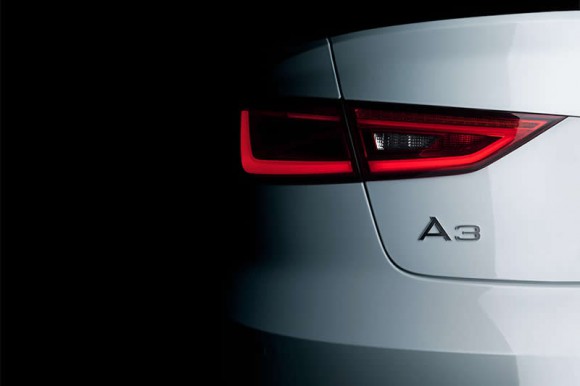 Driving
This 1395cc engine may not be the quickest option, but it feels plenty fast enough once the turbo is spinning. It weighs in a full 95 kg less than the 2-litre diesel option and as is often the case, this added agility makes it a contender for being the most enjoyable drive in the range. Its only weakness comes when accelerating from low revs where the turbo can be caught out and takes a moment to catch up.
The A3 Cabriolet is a solidly built car, but it remains light and agile to drive. It is certainly more involving to drive than the old model. The chassis is stiff and responsive and the safe front wheel drive handling doesn't suffer from a nose-heavy feeling, perhaps a result of the use of aluminium body panels around the front end.
The size of the car feels just right on European roads where it is big enough to feel safe and cruise smoothly while not being cumbersome to navigate narrow roads and city back streets. For those who enjoy driving this makes a realistic alternative to BMW's 1-Series Convertible (and forthcoming 2-Series) while those just looking for comfortable, stylish transport won't be disappointed either.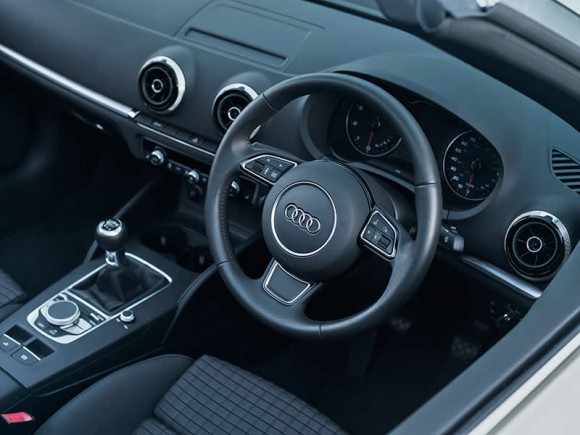 Interior
Next to the smaller previous A3 Cabriolet the new car feels like a step up. The interior design is slick if not particularly striking while the quality of materials, fit and finish is exceptional. Rear seat room and luggage space are improved and the cockpit has a big car sophistication about it with high-quality materials and solid build quality. The 'Sport' trim fitted to this car provided highly supportive fabric seats and a host of little details that make it feel more special than the standard SE.
The rear seats are on the small side but unlike some rivals they are perfectly useable and it isn't an impossible task to navigate in and out of them. The extra length of the new A3 Cabriolet means that luggage space is increased by over 30%. When the roof is up the luggage space can be increased further by pushing the folding storage box up and out of the way.
The Roof
Audi make some of the best fabric convertible roofs on the market and this is to their usual standard. Opening in just 18 seconds when parked or on the move at speeds up to 31mph. It slips away neatly out of sight under a hard cover. The inside is well lined and insulated to a standard where it is hard to tell that you are sitting in a convertible car.
Conclusion
If there is one thing a convertible car needs to do it is to make the driver feel special and that is what this car does best. With more than a mere facelift; the Audi A3 Cabriolet takes a large stride forward to the top of its class. No longer a budget affair, it is a class above the VW Golf and the stylish interior feels more special than the BMW 1-Series. It feels less sensible than either while remaining very practical.
Audi's Cylinder on Demand trickery is impressive and makes the 1.4 TFSI an efficient daily drive. There is a dizzying list of options which can add up to scary amounts and are best left alone. One box I would tick would be the comfort package which adds parking sensors, cruise control and a auto-dipping rear-view mirror.
See the Audi A3 Cabriolet 1.4 TFSI full specification in our Buyers Guide.
Alternatives
Volkswagen Golf Cabriolet
The Golf is based on the same architecture as the previous model A3 Cabriolet and as a result is smaller and less involving to drive. It is refined however and more affordable.
BMW 2-Series Convertible
Due for release in 2015, the 2-Series BMW focuses on enthusiastic drivers with its taut handling and muscular styling. Not as pretty as the Audi, it lacks its sense of luxury however may appeal more to male drivers.
Vauxhall Cascada
The Cascada is a little cheaper than the A3 and can't match it on brand image. It is a larger car though and comes with an impressive specification as standard.