» Buyers Guide » McLaren Convertibles
McLaren Convertible Cars: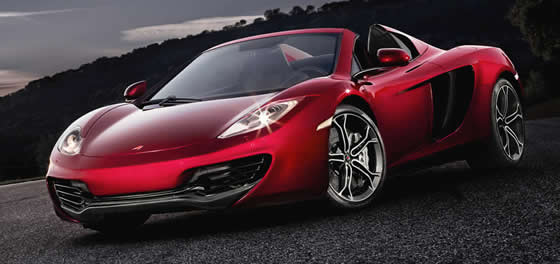 For many years McLaren only built racing cars but after the success of the F1 hyper-car the business case was made to go into competition with the likes of Ferrari and Lamborghini.
The designs and naming conventions for their cars is a little confusing but there are at least three distinct product groups. These are 'Sports Series' – entry-level cars that aim to be useable every day, 'Super Series' – high-level super-cars and 'Hyper Series' limited edition ultimate performance machines with seven-figure price tags.
McLaren cars have built a reputation for having precise handling, market-leading performance and exacting build quality. They have sometimes been criticised for being a little too clinical and lacking the passion and exuberance of their Italian rivals however this is beginning to change.
Select a McLaren convertible:
McLaren's latest car is a convertible version of the 650S, itself launched just a few weeks ago. First shown in public at the Geneva Motor Show the McLaren 650S Spider is clearly influenced in design by the P1 hypercar.

McLaren's latest convertible supercar was unveiled for its first public viewing at California's Pebble Beach Concours d'Elegance event. The 12C Spider was revealed at the prestigious Gooding & Company Auction preview.

The long awaited convertible version of the McLaren MP4 12C has now been revealed to the public. The McLaren MP4 12C Spider features a two-piece folding hardtop which sits on top of a pair of flying buttresses. It's impossible not to make comparisons with the Ferrari 458 Spider which has very similar styling although a one-piece roof.