McLaren's latest car is a convertible version of the 650S, itself launched just a few weeks ago. First shown in public at the Geneva Motor Show the McLaren 650S Spider is clearly influenced in design by the P1 hypercar.
It fits in between the P1 and 12C in the range. McLaren are so confident that the 650S will take the majority of sales over the McLaren 12C Spider on which it is based that they have temporarily ceased production of the lower range car to concentrate on demand for the new car.
In addition to the obvious styling changes the McLaren 650S Spider has a 641 bhp (650PS) version of the M838T twin turbo 3.8 litre V8 engine. This gives a 0-100 km/h (62 mph) time of just 3.0 seconds and a maximum speed of 204 mph (329 km/h) – identical figures to the coupe. The 650S was designed with a carbon fibre MonoCell chassis that provides all the car's strength without the need for a structural fixed roof. The result is a convertible car with a two-piece folding composite hardtop, that weighs only a few pounds more than the coupe.
When lowered, the roof is stored under the rear tonneau body panel complete with twin buttresses. The heated glass rear window operates independently of the roof to allow it to be kept in position to act as a window deflector. When the roof is up the window can be lowered to let more of the musical tones of the V8 into the cabin.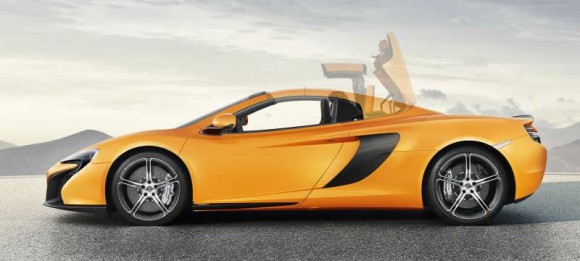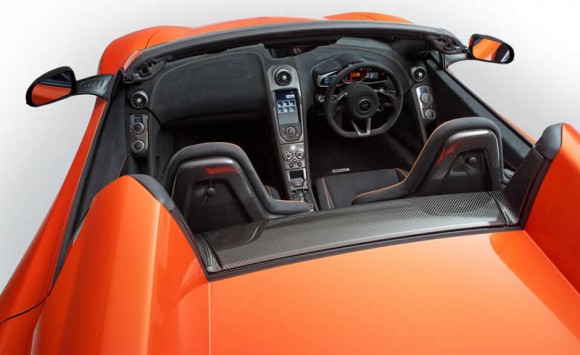 Despite the performance figures this isn't a stripped-down track car like last year's Ferrari 458 Speciale. Instead it has a full Alcantara interior, carbon-ceramic brakes, an electric adjustable steering wheel and an impressive new infotainment system.
Priced at £195,000 GBP the McLaren 650S Spider is £20,000 more than the 12C Spider however McLaren don't consider this to be a problem for their growing customer base. If it is too much to bear, customers can wait for the new P13 – due to launch in 2015 at two thirds of this price.