» Buyers Guide » Porsche Convertibles
Porsche Convertible Cars: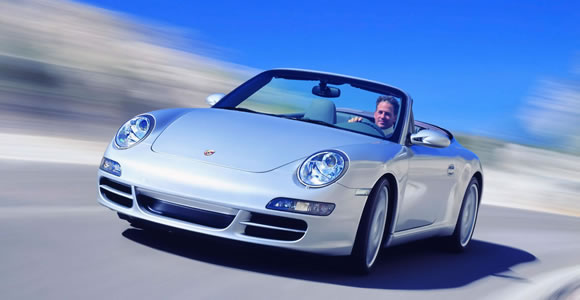 Porsche are well known for building high performance cars with a solidity that means they can be used every day. This includes their convertible cars which are among the leaders in their respective segments. The 911 has long had its committed fans and in recent years the wild handling of the rear engined car has been tamed with advanced technology and design. The entry-level Porsche Boxster combines the agile handling and build quality of the 911 Cabriolet with a more manageable price tag.
Select a Porsche convertible:
The name goes back all the way to 1965 when the Porsche 911 Targa was introduced after a number of successes at the Targa Florio road race. The 911 based car was designed for road use but featured a convertible roof limited to the areas between the windscreen top and the roll bar

While BMW may be the official automotive sponsor of this year's Art Basel Festival and the more usual patron of brightly decorated art cars, this latest work adorns the body panels of the latest Porsche 911 Cabriolet.

There has been talk of a family of small mid-engined roadsters from Volkswagen for some time and with the car now close to completion it seems to have fallen from favour among the companies senior executives. The car which was launched as the VW BlueSport Roadster concept in Detroit in 2009 is aimed to be a super-efficient low-carbon sports car.