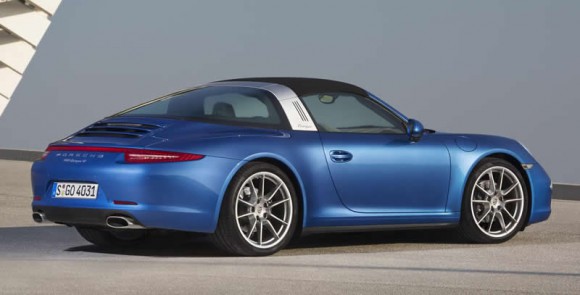 The name goes back all the way to 1965 when the Porsche 911 Targa was introduced after a number of successes at the Targa Florio road race. The 911 based car was designed for road use but featured a convertible roof limited to the areas between the windscreen top and the roll bar in the same style as many of the cars competing in the race.
The Porsche 911 Targa continued to be popular and in recent years took the form of a full length glass roof that slid back under the rear window. This latest car echoes the style of earlier cars with an aluminium covered roll hoop and wrap around glass rear window. The roof however is all new. A fabric roof automatically folds back with a mechanism of surprising sophistication. The operation involves the top of the roll bar and the whole rear window section lifting up to allow the small Z-shaped roof to be stored underneath. It is certainly impressive to watch but we can't help but wonder if it is all quite necessary and if they were going to all that trouble why they didn't use a folding hardtop roof panel.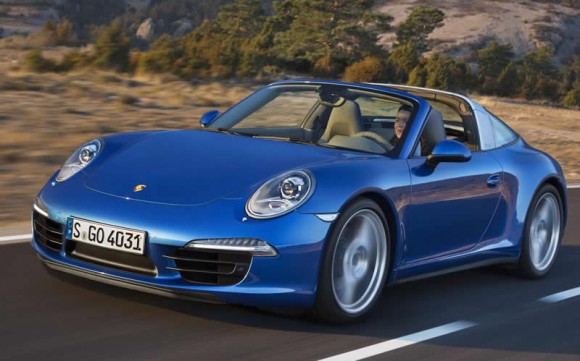 Either way, it is a stunning car and will likely challenge the fully convertible Porsche 911 Cabriolet for sales. Compared to the Cabriolet (with which it shares much of its chassis design) the Targa, thanks to its fixed roll bar, offers increased safety, a more rigid chassis and a more masculine look.
The rear-biased Porsche Traction Management (PTM) all-wheel drive system from the Carrera 4 comes fitted as standard. The Porsche 911 Targa 4 is powered by a 3.4-litre, 350 hp (257 kW) flat-six engine while the more powerful Porsche 911 Targa 4S delivers 400 hp (294 kW) from a displacement of 3.8 litres.
The Targa debuted at the 2014 North American International Auto Show in Detroit and should become available to purchase later this year.