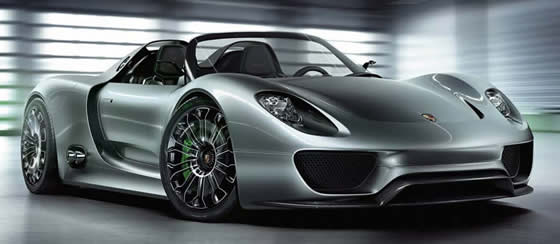 2010 was a relativley quiet year for convertible car manufacturers. The global recession had done its worst and with budgets slashed and new car purchases still slow there was little point in making the effort to introduce new convertible cars. 2011 looks altogether more promising however. Some of the cars we had expected earlier may well make the light of day this year and there are several others due for launch in the coming months.
Abarth Roadster
The Abarth Roadster has had a turbulent ride. The first rumours started back in 2008 and initially it was thought to be based on the Smart Roadster – a great little roadster that was plagued with a slow gearbox and reports of leaks. Since then the Fiat owned brand seams to have considered KTM and Lotus based chassis' for the car however it may well be finally based on the Fiat Panda/500 platform to keep costs down. We expect it to have a tuned version of Fiat's turbocharged 1.4-litre MultiAir engine mounted behind the driver and connected to a dual-clutch paddle-shift gearbox. It may yet be 2012 before we see it.
BMW 1 Series Convertible
The BMW 1 Series has had an update and along with this comes a renewed convertible model despite it only being a couple of years old. The 2011 convertible will arrive on our roads by March and have improvements in economy and emissions along with new lights front and rear and an updated interior.
BMW 6 Series Convertible
The all new BMW 6 Series has a convertible model which we are much impressed with. The new car has improvements across the board; most strikingly it is rather more handsome than before. It also has more space inside and surprisingly good levels fuel efficiency despite the big engines. There are of course plenty of luxuries in this BMW Convertible and performance that won't disappoint.
Chevrolet Cruze coupe-cabriolet
The rumour trail for this entry for the competitive four seater hardtop convertible car segment may have gone cold but we still think it has a chance. GM made a large investment to develope and build the four door Cruze and it would make sense to diversify the platform as much as possible.
Chevrolet Camaro Convertible
The Camaro Convertible is another car that has had a tough time. When recession hit there were times when it looked like it would be scrapped, it certainly was touch and go for a while. However the Camaro Coupe has sold well – outselling the Ford Mustang coupe in 2010. Unlike the Dodge Challenger Convertible the Camaro Convertible has made it through the recession. In 2011 it will finally be with us and we can see how it takes on the Mustang Convertible in the muscle car ring.
Chrysler 200 Convertible
The outgoing Chrysler Sebring Convertible leaves a gap in the market for a 2011 four seat convertible. This hole will be filled by the new Chrysler 200 Convertible. It has already been spotted out doing final testing and we expect it to be launched this year at the New York Auto Show. The car undergoing tests appears to have a fabric roof but we suspect this to be a folding hardtop in disguise or at least for there to be choice of alternative rooves available as with the Sebring.
Donkervoort D8 GTO
Donkervoort is a little known Dutch car maker who builds very effective Audi powered sportscars in the style of the Lotus Seven. The challenge for similar car builders is building a similarly no-frills, fun to drive car for the 21st century. The D8 GTO will be Dnkervoort's latest attempt. Expect a carbon fibre chassis and lots of power.
Ferrari 458 Spider
Ferrari outdid themselves with the new 458 mid-engined super car. Its performance is everything you expect from the brand and more. Performance on the track has bettered cars with far higher price tags, even from from Ferrari itself. Although a convertible model traditionally follows the coupe in Ferrari's mid-engined range (right from its beginnings with the Dino) there has been little information or pictures leaked from the secretive Ferrari factory. We would however be surprised not to see a 458 Spider model released in 2011 although it may not be available until 2012.
Lamborghini Reventón Roadster
The exotically designed Lamborghini Reventón was a big hit at car shows around the world and retains its mystique by being a strickly limited edition. Now a few more lucky owners will get to own one with 20 more Roadster versions being made. Weight is also kept to the minimum by use of carbon fibre components and body panels and ultimate performance is guarenteed from the 6.5 litre twelve-cylinder engine.
Lotus Elise
Lotus are making big changes with a range of new cars being developed a new brand positioning and a renewed effort to bring the sportscar maker back into profitability. The new Lotus Elise has a subtley revised body shape with all in one integrated headlights including LED day light running lights and LED direction indicators. Minor changes but the first sign of the big things to come.
Mercedes-Benz SLK Roadster
Mercedes have been working hard to update their small roadster model, the SLK, to boost sales and keep the styling inline with the current model range. So out with the now outdated Mercedes SLR Mclaren look and in with the AMG SLS style. The car will have improvements all round but the bit we like the most is the trick roof. Not just because it is a folding hardtop but because of the electronically dimmed glass skylight panel. This alone will make it one of the most desirable new cars of 2011.
Mercedes SLS AMG Roadster
A Roadster version of the SLS AMG Coupe was apparently developed along side so it is only a matter of time before the marketing team give it the all clear for release. We'd expect to see it by this summer. It has been spotted under testing with little disguise and looks to be complete. The roof is of the light-weight fabric variety and folds away neatly to keep a decent luggage space.
Mini Speedster
This one is less likely than some of the others on the list but we feel the diversification of the Mini brand to be moving so fast that we wouldn't be at all surprised to see the Mini Speedster concept, seen at shows a couple of years back, developed for the road. The car takes the form of a two seater roadster and promises performance to match. We'll have to wait and see if those in power at BMW have given it the green light but we think it would sell very well.
Nissan Murano CrossCabriolet
The Japanese car manufacturers continue to be the innovatoprs in the market and the Nissan Murano CrossCabriolet is no exception. The 2011 Murano is the first ever convertible crossover SUV. It makes its own category and provides a spacious, practical car that doesn't forget to be fun.
Porsche 918
The Porsche 918 promises to be a super-efficient hybrid supercar. The concept was first shown in March of 2010 at the Geneva show to great public acclaim. Porsche then said that they would build the car if the demand was high enough. Months later it was confirmed for production as a limited series with 2000 declarations of interest given to Porsche dealers. Power comes from the 3.4 litre V8 engine from the RS Spyder Le Mans Prototype racing car, supplemented by three electric motors delivering an additional 218 horsepower. The transmission is a 7-speed PDK gearbox. The chassis is a carbon-fibre-reinforced plastic monocoque, keeping weight down to a spindly 1,490 kilograms (3,300 lb). Performance figures are quoted as 0-60 mph in 3.2 seconds, a top speed of over 200 mph and economy of an amazing 78 mpg. In order to make these kind of savings however you will need to pay a fairly hefty purchase price.
Rolls Royce Ghost/Corniche Convertible
The new Rolls Royce Ghost has been a great success for the premium brand, providing a more affordable and smaller (yet still big) alternative to the flagship Phantom. It is only a matter of time before a coupe and convertible are developed on the same platform. 2011 may be a little soon for a release date but there is certainly a car under development. It is also likely that as with the Rolls Royce Phantom Drophead Coupe a convertible will precede the coupe. Rumours suggest that the Corniche name may be used for this new coupe and convertible.
Suzuki Swift Convertible
The second generation Swift platform should include an affordable small convertible. There have been plans for a convertible Swift for some time however the previous version was unsuitable for the US market and so a convertible could not be made in viable enough figures.
VW Golf Cabriolet
Despite the Eos VW still see space in the range for a Golf convertible and with the platform already developed for the Audi A3 Cabriolet it seems an easy move for further diversity. For the time being the Golf Convertible would fill the hole left by the ageing Beetle Cabriolet.