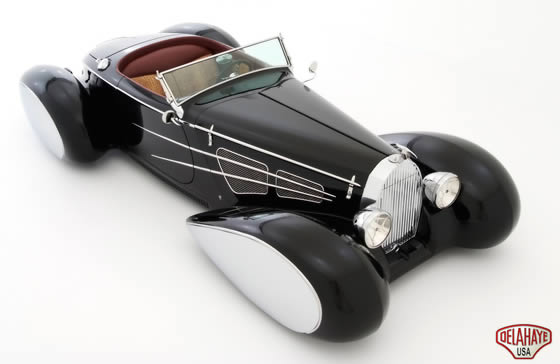 Bugnotti? Sounds like a fly spray but it is actually the name of this one off convertible. To be correct it's a Delahaye USA Bella Figura Bugnotti Type 57S Roadster. That mouthful helps to explain that this is neither a replica or recreation of any one historic car. It is in fact a blend of several classics with a good serving of creative license that doesn't pretend to be anything else.
It comes from a group of people better known for low-slung hotrods than classic restorations, so this is a car that forgoes historical accuracy and replaces it with stunning creative styling. Terry Cook has been creating boat-tail speedsters and chopped down Lincoln Zephyrs for some years before the idea of a hybrid of classic designs from French sports car companies Bugatti and Delahaye (hence the poached Delahaye USA branding) along with the styling of coachbuilders Figoni & Falaschi.
Prior to the bodywork, the leather was "crocked" (converted to faux crocodile) and was combined with contrasting red leather to complete the custom interior.
The body itself was designed eight years ago for Cook by top hot rod builder/designer Chip Foose of Huntington Beach, CA. It is a cut down and streamlined version, inspired by the early Al Leamy and later Gordon Buehrig styled Auburn Boattail Speedsters. Relatively unknown clay modeler Vince Gardner contributed a lot to the styling of the second generation Auburn Boattail.
While the Bugnotti has a lot of unique styling features combined into one car, the singular statement that Cook is trying to convey is the lavish use of polished stainless and chrome plated aluminum exterior body décor. It harkens back to the flamboyant use of brightwork by famed Paris coachbuilders Jacques Saouchik and Guiseppi Figoni, who are two of Cook's heros.
One side of the car is decorated with the thin stainless trim, but the opposite side of the car has a large pair of pumpkin seed shaped fender skirts.
The fully enclosed "pontoon" fenders were strongly influenced by several mid 30's Delahayes designed and built in Paris by famed coachbuilders Figoni & Falaschi. The front tires steer lock to lock inside the somewhat bulbous front wings. The grille shell is a faithful copy of a Bugatti Type 57 that has been chopped about 4 inches to fit the car. To top of the blend the radiator shell was capped off with a replica Hispano Suiza stork.
Power comes from a LS-1 small block Chevy V8 with a 4L60E automatic transmission and a eight fabricated stainless megaphone exhaust stacks that smack of a pipe organ.
Like most of Cook's creations, the Delahaye USA Bella Figura Bugnotti Type 57S Roadster is for sale to provide funds for numerous other current projects. There are no indications of a price but we imagine it will be snapped up pretty quick.