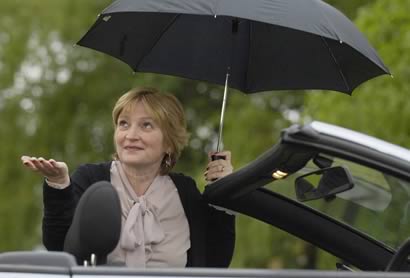 Convertible car owners could be driving without adequate motor insurance cover warns Swinton.
With forecasters promising another summer scorcher, sales of convertible cars are going through the roof with 4% of new cars now able to go topless compared to just 1% ten years ago.
But the desire to feel the wind in your hair and the sun on your face has its drawbacks, according to the high street insurance retailer.
According to the Met Office temperatures are set to soar once again this summer but not quite yet. The hot weather during April was short-lived and forecasts for May are pretty changeable with showery, wet and windy weather.
Car interiors, sat-nav systems and stereos can be seriously damaged if convertible cars are caught short in a shower with the roof down. Swinton's motor insurance team is advising people with convertibles to think twice before going topless if there's any chance of rain. Some policies do not cover damage caused when a car has been left unattended with its roof down.
Chris Collings, Development Director said: "Convertible car drivers should take heed – don't get caught short with your roof down. At this time of year the British weather can't be trusted, one minute it can be bright warm sunshine and the next it's pouring down."
Likewise as the weather does heat up over the coming months, inexperienced convertible drivers need to adopt a rigorous security regime to ensure that valuables aren't easy pickings for opportunist thieves if the car is left with the roof down.
Joy Stainsby, a convertible car owner from Manchester, Great Britain was caught out when she took advantage of some spring sunshine during a recent shopping trip. Joy enjoyed glorious sunshine as she drove to the supermarket with the roof down. She left her car hoodless while she went shopping and then was shocked to discover when she returned to find that the heavens had opened and her car's interior was soaking.
Joy said: "It was a beautiful morning so I put the roof down on the car for the first time this year. There wasn't a cloud in the sky when I went into the supermarket but when I came out, the sky was completely black and it was pouring down.
"All of my car seats were soaking and I had to have my car professionally cleaned to get rid of the wet dog smell. I was lucky the car stereo and electrics weren't wrecked because I found out later that I wouldn't have been insured. My policy only covers me for damage caused to my vehicle when I'm in it and not if I leave my car unattended with the roof down."
Theft claims are often void if the car has been left unattended with the roof down because it is deemed as not being left in a secure condition, even if there is an alarm fitted with sensors.
Chris Collings said: "Convertible car drivers need to be aware that they are taking a risk if they leave their car with the roof down. People need to be vigilant when driving and leaving convertibles parked with the roof down – always put items such as handbags and shopping in a locked boot."