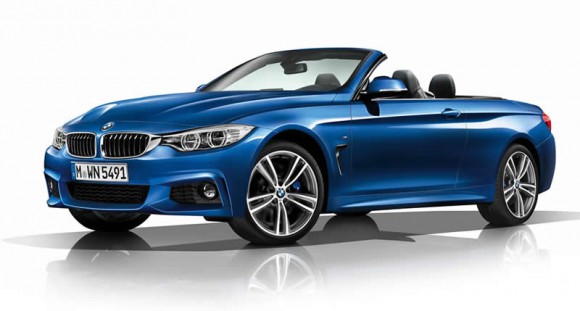 Some major names in the convertible car industry will be updated in 2014 including the BMW 1 and 3 Series Convertible replacements and an all new trimmed down MX-5 Roadster. The convertible industry seems to continue in strength despite some media accusations to the contrary.
The following are a selection of the 2014 convertible cars we expect to be launched followed by some more speculative predictions.
Alfa Romeo 4C Spider
The Alfa Romeo 4C was launched as a small sports coupe in 2013 and will follow it up with a Spider model in 2014. The test mule seen driving around has a tarta-style roof similar to the Lotus Elise however it remains disguised so this may not be the final formula. The 4C is a lightweight sports car with focus on the serious driver. Expect performance figures from the turbo-charged engine to be close to or the same as the hardtop version's.
2014 Audi A3 Cabriolet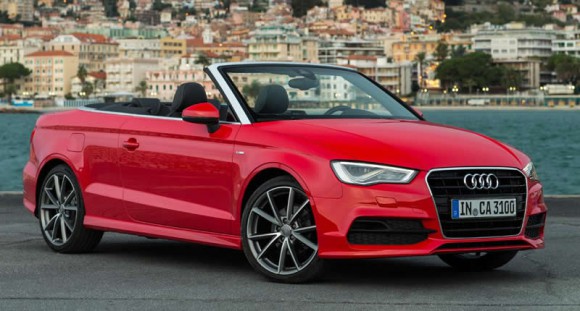 Audi's small convertible has grown up in both size and sophistication with the new Cabriolet. The fabric roofed car has a smart sporty look both inside and out as well as increased passenger and luggage space. It aims to be better to drive with a high performance S3 Quattro model due later in the year. For those of a more frugal nature there will be a full range of engines including diesel options.
Audi TT Roadster
Audi have kept very quiet about their new TT design with so far none of the 'accidental' camouflaged test car flaunting that spread rumours among motoring fans. Expect styling to reflect the Audi Sport Quattro Coupe Concept that the german brand has been flaunting at recent motor shows. Based on the same MQB flexible chassis architecture as the A3 and VW Golf it will loose weight and gain agility. The Audi TT Roadster will be unveiled in 2014 but may not be on the roads until early in 2015.
Bentley Continental GTC V8 S
The V8 powered Continental GT is key to the model's future partly due to improved overall fuel economy but also because of the high rate of car tax in China (a key export market) for imported vehicles with engines over 4 litres. The S model will squeeze 521 bhp out of Bentley's 4-litre, twin-turbo V8 engine and along with suspension tweaks the GTC will become a more involving car to drive. The Bentley Continental GTC V8 S will arrive at dealerships in the Spring.
BMW 2 Series Convertible
Already revealed as a coupe the BMW 2-Series Convertible will follow shortly. The 2-Series name reflects BMW's efforts to separate the sports models from the hatchback 1-Series and allows them to develop them in a less compromised way and with their own visual identity. The fabric roofed car should be unveiled in 2014 but may not be on the roads until 2015. Petrol and diesel engines power the range starting at the 2 litre 218d up to the 3.0-litre six-cylinder turbo powered M235i boasting 321bhp. A fully fledged BMW M2 Convertible may follow later.
BMW 4 Series Convertible
The BMW 4-Series Convertible (pictured at the top) was unveiled in late 2013 and will go on sale in 2014. The design of the hardtop convertible BMW is both more sporting and refined than the 3-Series that came before it. The top can be lowered in 20 seconds which is no mean feat for a metal hardtop. Engines range from a 2 litre diesel 420d to the 3.0-litre straight six turbo of the 435i. Six speed manual gearboxes come as standard but there is also an option of the fantastic 8 speed ZF auto.
Ferrari California Turbo
The Ferrari California has proved a success for the Italian super car maker as a more practical and (a little) more affordable option. A revised version of the California has been undergoing tests with a more powerful twin-turbo V8 engine based on the 3.8 litre unit they helped develop for Maserati. The new engine should also be more fuel efficient and the reduced capacity will allow it to avoid China's new high import tax band for cars over 4 litres. The new Ferrari California will also feature updated bodywork and interior design with an up to date infotainment system.
Ford Mustang Convertible


The 2015 Ford Mustang Convertible has been highly anticipated and visually at least it has not left fans wanting. It is a stunning sports car that offers great value for money considering the performance figures. It is not surprising that the Mustang is one of America's top selling convertibles. For the first time this fabric roof four seat convertible will be offered to a global market.
Mazda MX-5 Roadster
We should get our first glimpses of the new MX-5 and the Alfa Romeo Spider with which it shares a platform by the end of 2014 with Mazda's car due to go on sale in 2015. Industry insights suggest that it may be smaller and lighter than the current generation with a smaller turbocharged engine. One of the complaints about the outgoing MX-5 was its extra weight and complexity compared to previous generations; it's good to see Mazda are listening to their customers.
Renault Megane Coupe-Cabriolet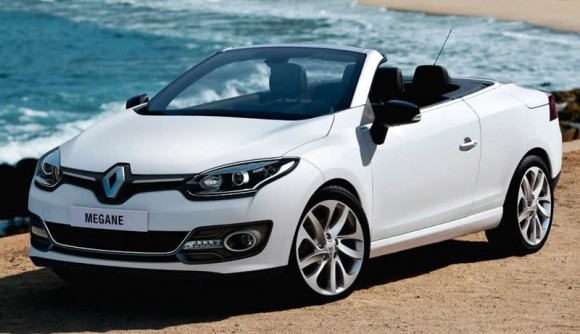 Both these Peugeot and Renault have ageing convertibles in their range and the next generation of the hatchbacks on which they are based being replaced in 2014. With sales for these French entry level hardtop convertibles slowing in favour of compact soft-top cars from VW, BMW, Mini and Audi there is a question mark over whether these cars will eventually be replaced. The Renault Megane Coupe-Cabriolet is however due to be given a facelift this year to keep it visually in line with the new range. A Peugeot RCZ Roadster had been considered but there have been no further rumours of this going in to production.
Range Rover Evoque Convertible
The 2012 Range Rover Evoque Convertible concept was a car that nobody had expected. Until this point the only other convertible was the Nissan Murano CrossCabriolet which has only sold in small numbers to the US market. The concept is said to have been given the go-ahead for launch as a 2014 convertible in 2 door form with a fabric folding roof.
Vauxhall/Opel Adam Convertible
GMs European brands have been working on a version of their city car with a roll-back roof similar to that seen on the Fiat 500C and the Citroen DS3 Cabriolet. The door/window frames will stay in position to maintain structural rigidity. The design will be based on the Opel Adam Rocks concept that we saw in 2013.
The following cars are a little more speculative. There is a possibility that they will be released as 2014 convertible cars, however not enough is known at the time of writing to give a sure prediction.
Cadillac CTS Convertible
The third generation Cadillac CTS is rumoured to spawn both coupe and convertible versions possibly as soon as 2014. General Motors have raised standards to a point that Cadillac can compete with the best of the european luxury cars. The CTS has a range of responsive engines along with sharp styling that could help to grow the brand around the world.
Daihatsu Kopen Roadster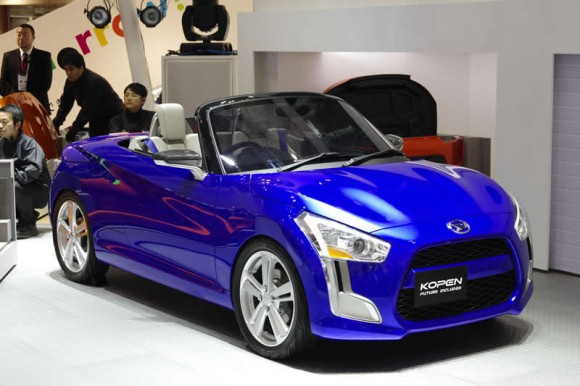 A new Daihatsu Copen replacement has been a long time coming but it is looking more hopeful than ever that the Japanese micro roadster will see a renascence. The latest concept at the Tokyo Show was looking showroom ready, just waiting for bosses to give it the green light. The biggest question is whether it will be made available outside of Japan like the previous car.
Hyundai Veloster C3
The Hyundai Veloster C3 concept seen at the LA Motor Show looked well developed and very much viable for production without lots of expensive tooling. Since then we haven't heard much but we remain hopeful that it is due for production soon.
Convertible Cars for 2015 and Beyond
Alfa Rome Spider
Following the Mazda MX-5 with which the Alfa shares its platform with, the Spider will be more powerful and expensive than its Japanese cousin. Hopes are that along with the 4C this car will revitalise the much dogged Alfa Romeo brand which has too long suffered disappointing front wheel drive cars often based on Fiat architecture. Hopefully we will see styling that reflects the classic Afla Romeo Spiders in a thoroughly modern car.
BMW i8 Spyder
Depending on the coupe's commercial success there is a very good chance that a convertible version of the hybrid sports car could be built. Probably with a targa style roof.
2015 Ford Mustang Convertible
2015 is the planned year that the Ford Mustang will finally be sold across Europe in both coupe and convertible form. It will even be sold as a right hand drive car in the UK. The classic muscle car brand is likely to win some fans but only if the fuel consumption figures can be kept under control.
Lamborghini Huracan Roadster
With the Gallardo replacement Lamborghini Huracan launching first as a coupe in 2014 it is unlikely that we will see a Roadster version on the road until the spring of 2015. There is much to look forward to with sleek bodywork, a 602hp V10 engine and a 202mph top speed.
Lexus LF-CC Convertible
The Lexus LF-CC is the Japanese brand's hope to challenge the BMW 4 Series and Audi A5 with a sleek performance GT car. As with its German rivals there is a convertible version being developed although little is known of the details.
Mercedes C-Class Convertible
The latest generation C-Class will launch in 4 and 5 door versions during 2014 with the coupe and convertible planned for a 2015 release. The C-Class will be a little smaller and more affordable than the current E-Class Cabriolet and benefit from improved road holding.
Mercedes S-Class Convertible
A convertible 2-door S-Class Mercedes has been spotted several times undergoing testing looking ready for launch by 2015. Read our news post on the Mercedes S-Class Convertible here.
2015 Mini Converible
Spotted undergoing testing, the next generation Mini Convertible looks to be a little less 'mini' than before with a longer, lower, more futuristic and less retro design. Based on the same platform as some of the smaller BMW cars the Mini will gain some lightweight, high tech features. The fabric roof will stay and new turbocharged engines will improve economy.
Pagani Huayra Roadster
Pagani had considerable sales success with the fantastic Zonda. The roadster version of their next generation Huayra should arrive by 2015. The bi-turbo V12 powered Pagani Huayra is highly regarded both for its exceptional performance and the beautiful craftsmanship in its design and construction.
Rolls Royce Wraith Convertible
The Rolls Royce Ghost Convertible that we speculated about last year has been confirmed for production in 2015 to join its sister the Wraith Coupe. More powerful and agile than any Rolls Royce before it, the Wraith Convertible will remain a serene cruiser rather than a performance car.
Toyota GT86/Scion FR-S Roadster
Toyota built up quite a level of excitement when they displayed their convertible version of the Toyota/Subaru sports car. It later turned out that the car was originally designed only as a coupe and to make the chassis suitable for removing the roof would involve a lot of work. Scion in particular seem very keen and are pushing their business case to Toyota's feasibility study. Time will tell if the roadster will make it to production.
Further in the future
Volvo C70
Volvo have shown that they intend to replace the now out of production C70 with a new model. They have more important priorities to deal with first so we will have to wait a while for this one.