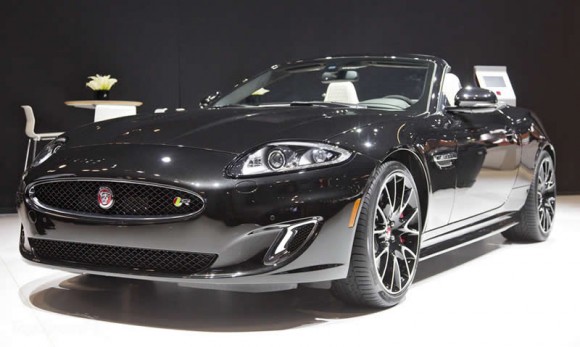 With the Jaguar F-Type now firmly established as one of the most desirable cars in the world it is time for the XK to complete its reign as Jaguar's sports car. Jaguar have announced that the model will end its 8 year production cycle this summer. The XK will not be immediately replaced so if you are looking for something a little more grown up than the F-Type you better not hang around.
The good news however is that Jaguar are releasing a Final 50 limited edition to US customers. It's not unusual for the last run-out series of a sports car to be pretty epic ( not least the final 50 special-edition run of the E-Type in 1974) and it is clear that the XK Convertible will be among them. 25 of the Jaguar XK Final Fifty Limited Edition will be Convertibles and these exclusive drop-tops will combine all the best details that the range has to offer.
The 510 horsepower V8 from the XKR provides the power and the Performance Active Exhaust makes sure that you will hear it at its best. Handling gets a boost from the normally optional Dynamic and Performance Packs, machined front suspension components from the XKR-S and a 10-millimetre lower ride height.
Since the F-Type was introduced many have forgotten quite how amazing the XKR-S was in terms of both performance and sound. The XK Final Fifty keeps much of this but in a more refined package. Unlike the loud (in every way) XKR-S, the Jaguar XK Final Fifty Convertible keeps much of the classic elegance of the standard car. Visual enhancements include the louvered hood from the XKR-S GT and Vortex 20-inch forged wheels but the lack of spoilers and fins makes it much more pleasing to look at.
All of the Final Fifty cars will be painted in Ultimate Black with a a black triple-lined fabric roof for the convertible models. All the luxuries you would expect in an XK are present with the addition of diamond stitched seat leather and limited edition badging inside and out.