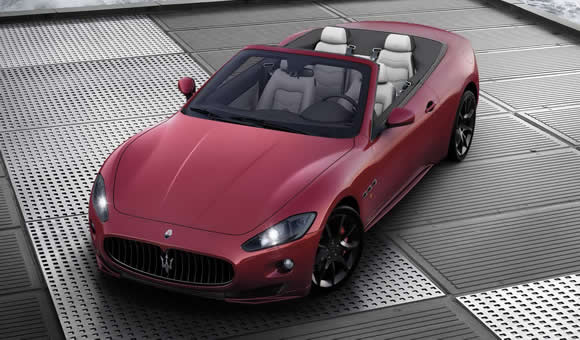 The Quattroporte based Maserati GranCabrio is a stunning car but as you would expect from a convertible sports car based on a large saloon it doesn't have the sharpest driving dynamics. It made up for this in being a charismatic cruiser with stunning looks and an engine note to die for.
Maserati aim to change our perceptions of this car with a new Sport model to be officially unveiled at the Geneva Motor Show later this year. The Maserati GranCabrio Sport has subtle visual differences to the standard car. The headlamps and grill are darker and there are some new dark painted 20" alloy wheels and at the back are black exhaust pipes. Seeing the pattern there? Maserati are going for a subtle approach with this car. Unlike the latest sports Jaguars Porsches and Bentleys this car is a whole lot more sophisticated.
Power comes from a tuned version of the standard Ferrari based V8 engine with an extra 10 horsepower squeezed out. That doesn't sound like much but power was never the cars shortfall. Use of that power is what Maserati has been focusing on. The Maserati Grantourismo MC Stradale showed us what could be done with this platform and the changes to produce the GranCabrio Sport are equally as miraculous. The suspension is stiffened and although this should mean a harder ride the boffins at Maserati have managed to keep it surprisingly comfortable. The handling is transformed; feeling agile and responsive without being harsh. Cornering is crisp and precise with a nice weighty feel to the steering. The Sport feels much faster than the standard car even if on paper there isn't much difference. Body control is better and it gives more confidence when cornering. The engine still sounds great – one of the best sounds of any car and the hi revving power band feels better suited to a more sporting car.
Of course many drivers will happily trade the involving drive for comfort and for those the standard Maserati GranCabrio will remain available.