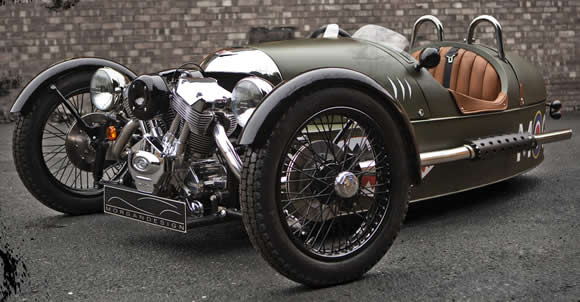 Morgan is unique in the automotive world for their continued success over many decades with minimal changes to their car designs. They may have some more modern offerings but the majority of their cars stick closely to their 1930s ancestors.
It didn't come as much of a surprise then when the new model they announced a year ago would be based on their historic three-wheeled "cyclecar". What has come as a surprise however is that this car has proved a huge success for them. This year's sales of the 3 Wheeler are expected to be over 600; more than the traditional 4/4, Plus 4 and Roadster put together, effectively doubling their output. It has also attracted a younger clientele to the brand.
The reason for this result, although helped by a wave of publicity, is due to the hand-crafted little car being such fun to drive. Those who have had time behind the wheel always finish off with a beaming smile and they haven't had to break the speed limits to do so.
In response to sales exceeding expectations, Morgan are considering developing variations of engine and body style to give the 3 Wheeler a range of its own right. Details are as yet unclear but judging by their Aero models a more modern interpretation of the car may be on the cards.
The firm are also considering updating their traditional range to use the same extruded aluminium platform as the Aero and Plus 8 models although they have yet to make a final decision on this.