Full details of the updated new Mercedes S-Class Cabriolet have been revealed for introduction in 2018. The biggest change is a new range of engines. The old S500 with its 455 bhp 4.7-litre V8 makes way for the German brand's new 4.0 litre twin-turbocharged V8 tuned to 469 bhp and a 9-speed automatic transmission. The S63 AMG model gets a highly tuned version of the same engine, puttng out 612 bhp and a faster dual-clutch version of the 9-speed gearbox. The V12 powerplant in the S65 AMG is unchanged. As is the 7-speed automatic transmission which is the only one capable of coping with the 1000 Nmof torque. Some markets will also get a more efficient six-cylinder S450 entry-level model. In additioon to slight performance improvements, Mercedes claim the new powerplants to be considerably more efficient. Perhaps more importantly, the V8 engine sizes fits neatly underneath China's sky-high top-rate tax band.
Left-hand-drive cars have improved 4Matic all-wheel-drive but this has yet to be engineered for right-hand-drive markets so these cars remain rear-wheel-drive only.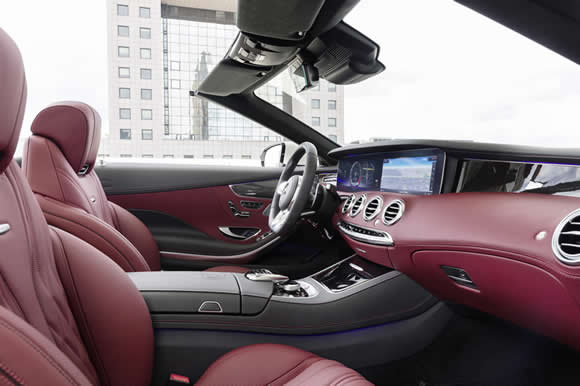 With the Mercedes-Benz S-Class Cabriolet only a few months old, the other updates are relatively minor. The rear lights are refreshed with the latest OLED technology while small changes have been made to the headlamps and bumpers. The AMG varients get the latest vertical-bar Panamericana grille from the agressive AMG GT3.
Inside, the semi-autonomous driving functions have been further developed, with the car steering and changing speed based on map data and its surrondings. A new stereoscopic camera helps to read the road ahead and prepares the Airmatic suspension for the slightest imperfection.
Minor improvements perhaps, but all-together they add up to keeping Mercedes-Benz' top of the range convertible their ultimate luxury land-yacht. Prices start at £115,910 GBP for the S 560 AMG Line and rise rapidly once you start ticking boxes in the options list. The Mercedes-AMG S 63 is available from £140,610 while the AMG S 65 will relieve you of at least £197,510.