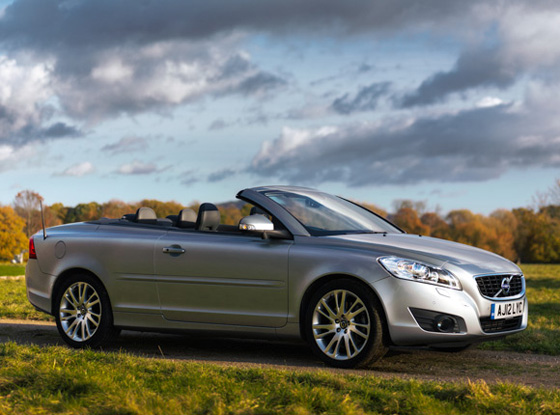 Volvos have changed. I grew up knowing the Swedish cars only as big shapeless blocks with very little about them to entertain a young car fan. This is not something that can be said of the curvaceous Volvo C70 Convertible. It is not a new car having been introduced back in 2006 but it still attracts positive comments and admiring glances from strangers. The C70 has more in common with the stylish classic Volvo P1800 than the slab-like cars from the 1980s.
The styling is elegant yet understated. I must admit to preferring the original front end design but the latest face-lifted version is still an attractive car. Inside and out, the influence of Scandinavian design is clear and it is nice to see Volvo going their own way on design rather than following the herd. It is the same with the overall concept. The Volvo C70 is priced level with other premium cars like the BMW 3-Series Convertible and Audi A5 Cabriolet but it doesn't try to be a sports car. Instead Volvo aims the car at drivers who want to combine practicality with luxury.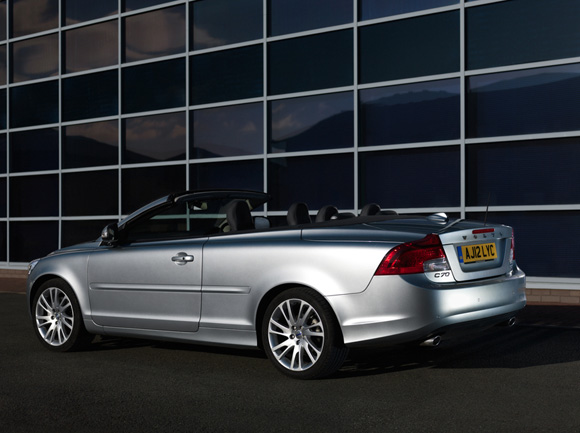 Interior
The equipment level in the SE Lux car I drove was very impressive. Every care has been taken to ensure the driver is comfortable and well cared for without any pointless gimmicks. The heated leather front seats are exceptionally comfortable being both soft and supportive and the back seats are of a reasonable size too. The cabin is bigger than the competitors and although the rear headroom may be limited for taller passengers it has an airy feel.
The controls are very tidy in their design with the trademark Volvo floating central column organising rows of small buttons to adjust things like the climate control and sound system. Unfortunately they can be a bit too small and close together to use while driving. Driving on a cold day I reached for the rear window heater but my finger found its way to two other buttons first sending the windscreen de-mister roaring into life. It is impossible to make adjustments without looking closely, which for a brand that prides itself on safety seems a bit counterproductive.
Driving
On the move with the roof up you would do well to tell that you are in a convertible car. The well insulated roof keeps out unwanted traffic noise and feels solid without having large pillars that might restrict your view. As a premium car there is of course automatic everything so you can focus on your journey rather than irritating things like turning on lights or changing gear!
As I've said, this isn't a firmed-up sports car but it certainly doesn't disgrace itself. The C70 is easy to drive and the ride is smooth, encouraging you to cruise along effortlessly. If you want to press on, this smaller engined D3 model responds and while you might not call it fast, you can still have some fun. This five cylinder turbo diesel engine is a bit noisy at low speeds but is easy to live with once you get moving and actually sounds good at higher revs. It returns reasonable fuel consumption, particularly economical on longer journeys but the weight of the car means that it isn't quite as low around town. The smooth six speed Geartronic automatic transmission suits the car well and helps performance. It is nice to see the Geartronic manual override but in reality you won't use it very often as it can do a great job without your help.
With the roof down the chassis remains stiff and there are no noticeable shakes or rattles from the bodywork. The front seats are just lightly breezy even at cruising speeds and even less so with the windows up. This car came with the optional wind deflector but I really couldn't see a need for it and didn't take it out of its bag. One thing I did notice was that in the cool Autumn air you could turn up the heating and the heated seats and be very comfortable. In many convertibles the word 'bracing' will be used for winter travel with the top down but in the C70 I just felt pampered.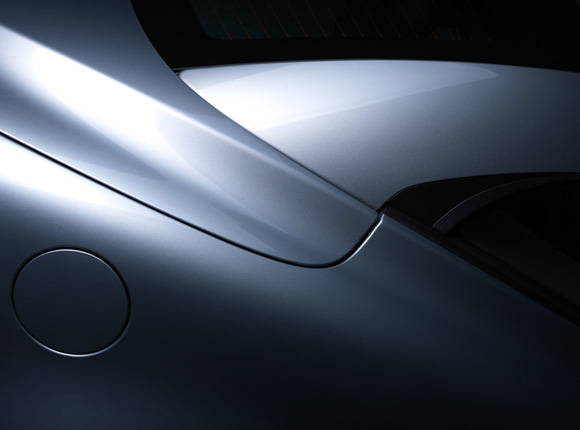 The Roof
The roof is a large and sophisticated 3-piece hardtop that at the touch of a button, quietly folds away into the upper part of the luggage compartment. There are many moving parts which would worry me on an older car but the Volvo C70 Convertible does not have a reputation for problems. The roof folds away into the top half of the luggage compartment and in doing so blocks most of the access. To counter this Volvo fit a button that allows the folded roof to lift up a few inches so you can reach underneath. Clever stuff.
The car looks equally good with the roof up or down which is not something that can be said for some other hardtop convertible cars. The lines are unbroken and the rear luggage space is great (at least with the roof up) despite not looking bulbous.
Practicality
The rear luggage compartment opens wide with the big clam-shell door giving great accessibility. Inside is a shelf which manually folds down to separate the roof storage and luggage space when required. This cuts the Volvo's storage space down by half so if you need to carry a lot of stuff then you will need to be traveling with the roof up. There is plenty of interior storage too, both for front and back seat occupants.
Visibility is generally good and parking sensors from and rear make it easy to fit into tight spaces although the steering doesn't have a huge amount of lock.
Safety
Safety continues to be one of Volvo's defining priorities and it shows. Although there is no precise measure of these things I imagine the C70 to be the safest convertible car available. To help prevent accidents in the first place, there is an electronic stability programme. Should the worst happen, there are multiple airbags including curtain airbags deployed from the doors (a first for a convertible), a roll-over protection system and seat belt pre-tensioners. It also has a really solid, well made feel to it; the doors are very thick and close with a reassuring 'thunk'.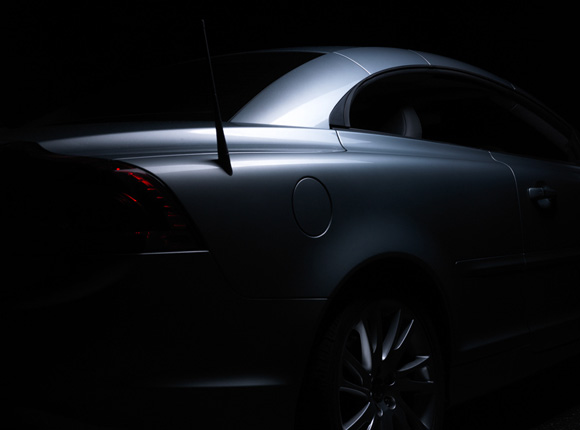 Conclusion
Some car manufacturers are having a rethink on the hardtop convertible. It seemed like a great idea but the added design complexity, cost, weight and reduced top-down luggage space made it difficult to get right. Volvo are one manufacturer who were successful. No sacrifices were made with the styling and everything works as it should do. With the added weight they didn't attempt to make it a performance car; it is cosseting and comfortable to drive rather than being a fast and furious convertible. In many ways it is the grownup choice for those who don't need a statement vehicle.
If you had to select one car to do everything the Volvo C70 Convertible would make a great choice. The idea of a hardtop convertible is to combine the best qualities of fixed-head and convertible cars and the Volvo achieves just that. It will quietly soak up the miles on long journeys or the daily commute but you can still drop the roof on a sunny day and have some fun. Moreover, if you wanted to cross a continent and enjoy a summer holiday at the other end this would be the machine to do it in.
Verdict: The Volvo C70 is a pleasure to drive, as safe and practical as a convertible can be and makes a luxurious and attractive daily use car.
Alternatives
Audi A5 Cabriolet
The Audi Cabriolet is an elegant and refined car with a desirable brand, good performance and a traditional fabric roof. Despite the soft-top, both rear seat and luggage space are smaller than the Volvo.
BMW 3-Series Convertible
The BMW 3-Series Convertible is the driver's choice as you might expect. It also comes in at a higher price than the Volvo C70 with poorer levels of standard equipment.
Lexus IS 250C
Like the Volvo the Lexus IS Convertible is an alternative to the ubiquitous German rivals. However it is only sold in Europe with one petrol engine. It is a smooth and refined choice with excellent levels of equipment and the largest luggage space in its class.