Masterpiece is London's fair of the world's finest luxuries and antiques. In its second year it is an eye-popping affair however this year brings something special of the four-wheeled variety.
Rolls-Royce have unveiled a one-off Phantom Drophead Coupé for the event to express their idea of ultimate motoring luxury. The convertible Rolls-Royce features a one-off Asprey jewellery box in the glove compartment to store your valuable trinkets along with bespoke design details such as teak decking, engraved tread plates and a Spirit of Ecstasy bonnet mascot inscripted to celebrate the brand's centenary year.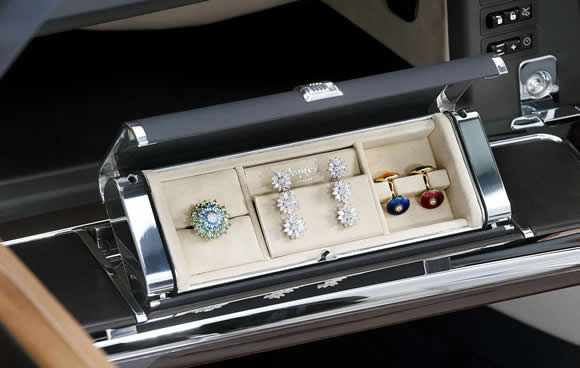 The Rolls-Royce Masterpiece London 2011 Drophead Coupé is the first car to be presented in Mazarine Blue, a new finish that joins a palette of 44,000 other colours already available to for Phantom models.
A bespoke hand-crafted luggage set in deep navy blue fits snuggly into the 'picnic boot' finishes off this unique drop-top.
"We are delighted to present this outstanding Rolls-Royce at Masterpiece London 2011," said Torsten Müller-Ötvös, CEO Rolls-Royce Motor Cars. "Craftsmanship and attention to detail shine through in features developed at Goodwood and in partnership with Asprey. It's a model that demonstrates the breadth of our bespoke offering, where the only limit to what we can deliver is a client's imagination."