Mazda Convertible Cars: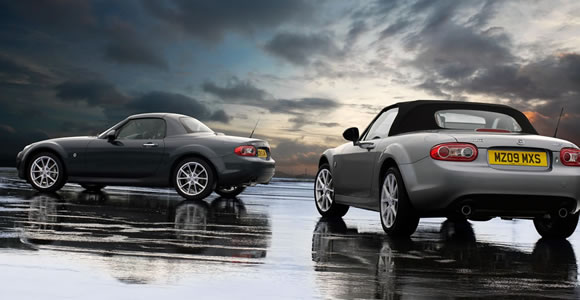 The Mazda MX-5 Miata is an icon among all cars not just convertibles. It single handedly revitalised the the roadster market and has seen strong sales for over 20 years. Its recipe for simple fun is one that other manufacturers manage to achieve – either they over complicate things with luxuries or technical complexity or they miss out the basic ingredients. Those ingredients are of course: light weight, front engine, rear wheel drive, good balance and a sporty driving position.
The Mazda MX-5 hasn't been company's only convertible success. The Mazda RX-7 Convertible released in 1988 was a great drivers car with its small high revving Wankel rotary engine. Not many were sold however and production was wound up in 1992.
Select a Mazda convertible:
The Mazda MX-5 RF has been unveiled today at the New York International Auto Show with a brand new hardtop convertible roof system for the popular Japanese roadster.

The Mazda MX-5 Miata Club Edition was revealed in New York as an even more driver focused model with details that suggest it would be as handy on the track as it would be wriggling down windy backroads. Changes are very much based around handling improvements rather any performance boosts.

As of today the first reservations are being made in Japan for the the new Mazda MX-5 Roadster. The Japanese two-seater is 25 years old and in sales terms is the most successful sports car ever. But if the recipe is unchanged why do we think that it will be such a big success?