The Mazda MX-5 RF has been unveiled today at the New York International Auto Show with a brand new hardtop convertible roof system for the popular Japanese roadster.
The previous generation of hardtop convertible Mazda MX-5 known as the Roadster-Coupe was one of the most effective uses of the solid roof – it was strong yet light, uncomplicated and took up minimal space when folded. The new roof starts from scratch with a whole new design. RF stands for 'retractable fastback' which reflects the new look but it isn't far away from what Porsche call a Targa. The side profile, however, reminds us more of the Porsche Cayman coupe but this roof divides in two with the rear part lifting up to allow the rest to fold away behind the seats. With the roof section folded, the retractable rear window remains in place as do twin buttresses along the rear flanks.
The roofline sits 5mm lower than the standard car and the steering and suspension have been adjusted according to the changes in weight distribution to balance the car for optimum performance.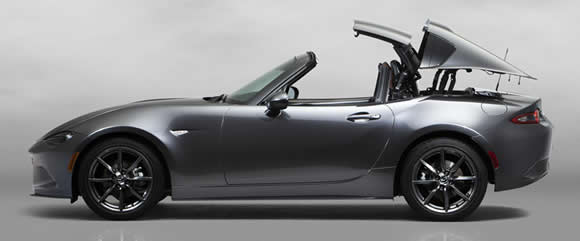 The new roof design now clearly differentiates the fabric and hardtop variants of the roadster. It operates electrically while moving at speeds of up to 10km/h and takes up no more space than the soft top version. The Mazda MX-5 RF will be available with either of the two engine options already available – the SKYACTIV-G 1.5 and SKYACTIV-G 2.0 and a choice of either six-speed manual or automatic gearboxes.
A new 'Machine Grey' paint has also been introduced for the new car with layered technology designed to accentuate the curves and angles of the bodywork.
Initial impressions are very good with most people who have seen the car, very impressed. Mazda's baby roadster is looking even more like a premium sports car. No prices or dates have been revealed yet but you can expect it to be available at a premium over the soft-top MX-5 and to be on sale by the Spring of 2017.