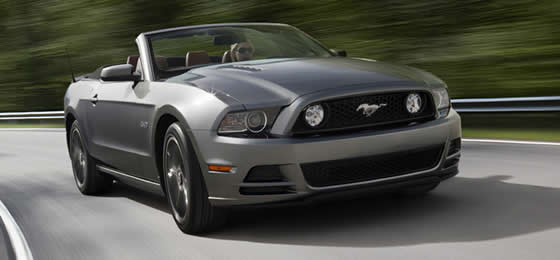 The American icon gets another face-lift and a new set of gadgets to keep it going through 2012. Ford seem happy with the mechanics of the current Mustang convertible and have left these unchanged so both the V6 and V8 powered GT options remain.
The biggest change is a revised nose with a more prominent grill and LED driving lights to set it apart from previous cars. The new look is more aggressive, expressing all the power waiting to be unleashed. There are high-intensity discharge (HID) headlamps as standard with two LED bars as driving lights.
The rear is also updated with a gloss black panel between the tail-lights. Those taillamps now have smoked lenses while three LED rings mark out the trademark rear lights for a sleeker look.
The Ford Mustang 5 litre V8 GT model now delivers a full 420 horsepower and if the owner specifies an automatic transmission they will now have the option to shift gears thanks to the new SelectShift Automatic gearbox. It isn't a full-on flappy paddle system but does give the driver the ability to have greater control when they need it while still being able to let the car do the work on a relaxing cruise.
The 2013 Mustang's dashboard gets a shakeup with a new LCD productivity screen that lets customers access information related to fuel economy and vehicle performance. The screen is navigated through a five-way control button located on the steering wheel and offers Track Apps, which delivers performance metrics for drivers right from the factory. The new app measures g forces, shows acceleration times in quarter-mile and 0-60 increments, and displays braking times, complete with automatic and countdown starts.