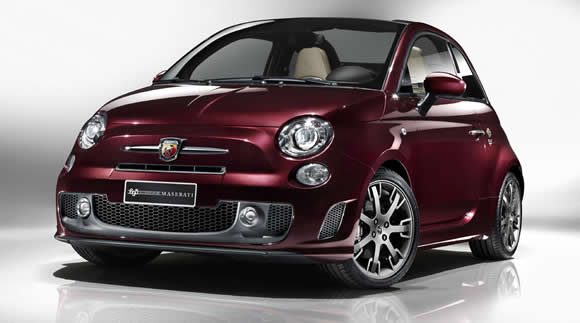 We've come to agreement here at Convertible Car Magazine that the new limited production run Abarth 695 Maserati Edition is the most desirable small car we've ever seen. It ranks above the usual 'special edition' fare with a swath of stylish additions and a pretty brutal amount of power for such a small car. It's a convertible that doesn't let the lack of a roof get in the way of fun handling and has a sense of elegance that puts all other hot hatches in the shade.
Like the Abarth 695 Tributo Ferrari that came before it, this hotted up Fiat 500 Convertible has a 180 horsepower turbocharged engine, a dual mode exhaust and Abarth Competizione paddle-shift gearbox. This Abarth whizziness is tempered by a dose of classic Maserati cool. At each corner are Maserati-inspired "Neptune" design 17 inch alloy wheels wrapped around Brembo disc brakes. The tuned exhaust gets twin polished Maserati trademark hexagonal tips and the bodywork is painted in a deep red shade called Pontevecchio Bordeaux.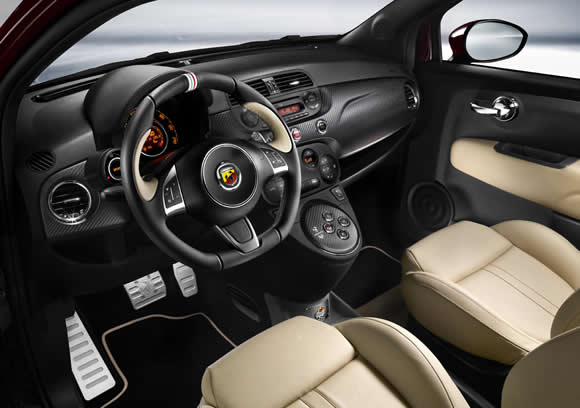 The interior offers Grand Tourer style sporting luxury with sand beige leather seats with the 695 logo subtly printed on the headrests. There are nostalgic Jaeger instruments behind the black leather steering wheel while the dashboard panel has a carbon finish. An aluminium pedal unit and sill plates finish it off along with distinctive badges and a dark grey roof.
Those looking to purchase one of the 499 cars to be produced may have to move fast with the Abarth 695 Maserati Edition to be mainly sold in Europoean markets.