The next generation Mazda Roadster looks very exciting with the well loved sports car stepping up its game to compete with the latest round of hot hatches. The new car is aggressively styled, with an attractive new bodywork and several measures for improved handling.
The first generation MX-5 has long been held up as the car's finest moment with later models adding weight and luxuries that softened the driving experience. This new fourth generation car looks to be a return to form with a substantial 100kg drop in weight and a centre of gravity moved back as well as lower in the car. The simplicity and great price point remain although equipment levels have been updated.
The build-up to the launch was headlined "it's not an evolution, it's a revolution" prompting us to speculate if the new Mazda MX-5 was to have a rotary engine but it appears on this occasion our guesswork was wrong. A selection of Mazda's efficient four-cylinder Skyactiv-G petrol engines will be used with power outputs potentially ranging up to around 200 bhp. High compression 1.5 and 2.0 litre options are available while turbochargers may be fitted which should further increase the aftermarket tuning potential. Mazda is also said to be negotiating with tuning companies to develop high performance variants. The engine is mounted behind the front axle line to improve weight distribution and provide even better handling. The power of-course still goes to the rear wheels through the continued choice of manual or automatic 6-speed gearboxes.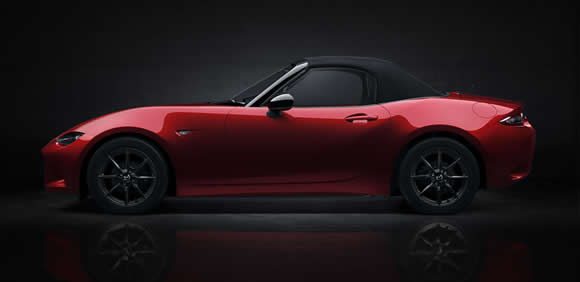 The convertible roof was fabric on the launch car but considering the popularity of the excellent folding hardtop design on the outgoing car this option may follow in the coming months. The new Mazda MX-5 styling reflects modern sports car designs, not least the Jaguar F-Type, but also the classic Miata designs. We thought the classic yet modern lines worked very well and should help to make this one of the most desirable cars available.
The design clearly takes driver appeal very seriously with 17 and 18 inch wheels used on the cars shown rather than the fashionable big rims and skinny rubber. It is also a touch lower and wider than before and a full 105mm shorter. The tachometer takes centre stage in the instrument panel, there is a proper manual handbrake nicely sized steering wheel. On the downside Mazda have used electric power steering in this car and although they have made a excellent job of calibrating these in their other models this could make or break a car which focuses on driver feedback.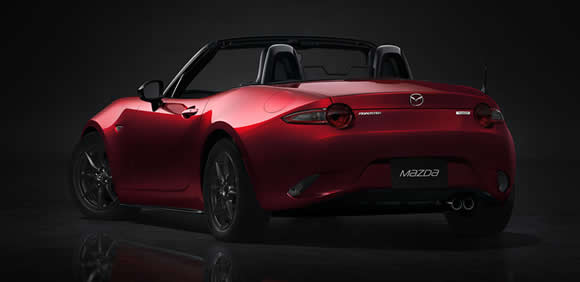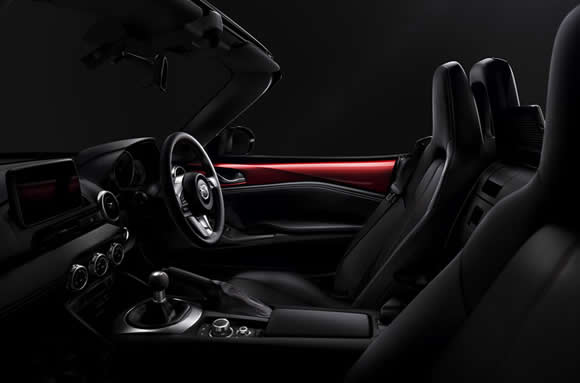 Inside the materials and general quality have been much improved while a pop-up touchscreen display sits in the centre of the dashboard.
Fans will be pleased to see that Mazda has stuck firmly to the original MX-5 Miata concept of a simple rear-wheel-drive front-engined roadster with handling so well balanced that power output figures seem irrelevant. One area where this roadster never really stirred the soul was its engine note. Initial signs suggest this new car may also improve on this area.
The car platform was developed in partnership with Fiat Group but the Italians have yet to reveal their hand. Initially it was to be given Alfa Romeo bodywork but Fiat Group CEO Sergio Marchionne's statement that as long as he's in charge 'there won't be an Alfa Romeo built outside of Italy' suggests that the car will be badged as a Fiat or Abarth model.
The new fourth generation Mazda MX-5 was launched globally at events in the US, Japan and Spain. The production cars will reach our roads in 2015 with prices starting below £20,000 GBP.