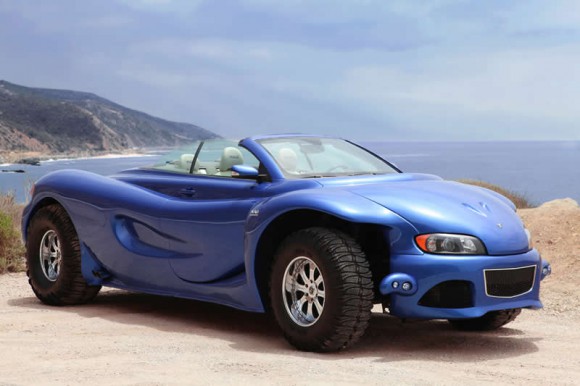 While there may be more luxury hypercars to spend your money on today than ever before, Dr Youabian, a Los Angeles plastic surgeon insists that there is room in the market for something different. His offering is certainly that. The Youabian Puma is a huge hardtop convertible with bus-like proportions and huge 44 inch tyres.
First seen at the Los Angeles Auto Show we expected the Puma would never pass the concept stage but the Youabian has lived on and has this time shattered the peace of the prestigious Monterey Car Festival.
While the chunky tyres and beach-buggy-looks suggest this may be a capable car off road, the power is sent to the rear wheels alone and the extensive wheelbase could also cause problems. On the upside the brute force of a 7 litre (427 cubic inch) 505 horsepower V8 engine and mud-plugging rubber might help it keep out of trouble. Indeed subtlety and discretion may not be the Youabian Puma's greatest strengths but those desperate to seek attention in any form could well consider this $1.1 million leviathan good value for money.

The Youabian's styling takes exception to the minimalist school's much lauded less-is-more theory and Colin Chapman's 'Simplify, then add lightness', and is a symphony of decorative scoops and curves with bulging fibre-glass panels stretching to cover the enormous wheels. The folding hardtop roof and windows have more than a little of the Volvo C70 about them and the realisation that this monster appears to have swallowed up a good sized coupe helps to scale its proportions.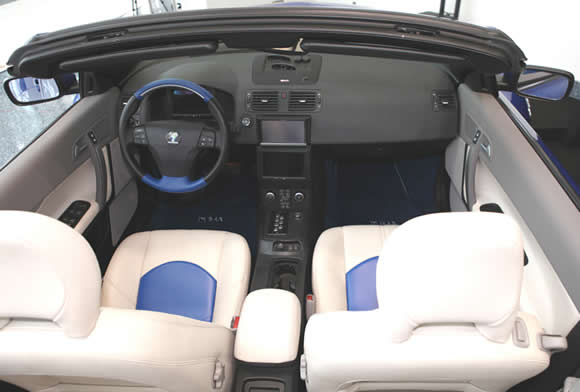 The interior borrows liberally from the Volvo too but the dashboard gets a brace of LCD displays rather than traditional dials. All four seats get a fresh coat of colour coded leather and the Puma comes with all the electronic gizmos of a modern luxury car.
Official performance figures suggest a generous 0-60mph acceleration time of 5.9 seconds and perhaps more realistic highway fuel economy 12 MPG. Those keen to take the Puma for a test drive will need to prepare documentation for stringent financial checks before getting behind the wheel.