A completely new design for the 2018 Jeep Wrangler has been launched at the Los Angeles Auto Show. Few cars have such a long and interesting heritage as the Wrangler and it holds a unique position as the only four-door convertible car currently in production. The new model continues the previous visual style as older versions and the same rugged ability, but the details show a more modern outlook and the interior is more welcoming than before.
The new Jeep Wrangler gets dragged into the 21st century with a host of digital entertainment and navigation goodies, a full-colour LED instrument cluster and choice of touchscreens featuring Apple CarPlay and Android Auto. The new generation Wrangler also gets a pair of new engines. 2.0-litre four-cylinder and 3.0-litre V6 diesels for the European market, while the US continues with the 3.6-litre V6 24-valve VVT petrol engine. For the serious off-roader, the four-wheel-drive system includes a full-time two-speed transfer case, electric front and rear axle lockers, a limited-slip differential and the electronic sway-bar disconnect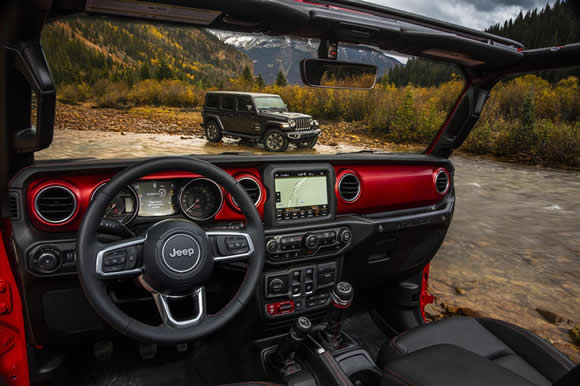 Both 2-door and 4-door (Unlimited) models continue, with the option of removable hardtop and soft-top roofs which fit over the sturdy roll cage. The Wrangler also benefits from a host of new safety and security features.
Jeep has been sure to keep their fans satisfied by keeping all the traditional features such as the fold-down windscreen and footwells that can (with rubber bungs removed) be hosed out when dirty. However, the new Wrangler adds just enough modern technology to keep it feeling reasonably current.
The new Jeep Wrangler goes on sale in 2018.