Not completely unexpected but a very pleasant surprise is the new BMW i8 Roadster. If you can cast your mind back to 2012 and the Beijing Motor Show, you might recall the BMW i8 Spyder concept car was unveiled. It was an exciting convertible version of the fixed-head design we had first seen a few months before. By the time the i8 reached production in 2014 it was available as a coupe only but there has always been the promise that the convertible was on its way.
The futuristic hybrid i8 Roadster comes alongside a facelifted version of the coupe. The mid-mounted 1.5-litre three-cylinder engine and six-speed automatic transmission continue but the front-mounted electric motor has an uprated power output giving a combined power of 374hp and 410lb ft of torque. Battery capacity from the lithium-ion cells has also been increased along with an improved fast-charging speed.
The hybrid system is very clever indeed with two power sources running independently yet perfectly syncronised. The petrol engine sends power to the rear wheels while the battery powers the front. It can run for up to 33 miles under electric power alone or can run with both drive sources with power being sent to all four wheels.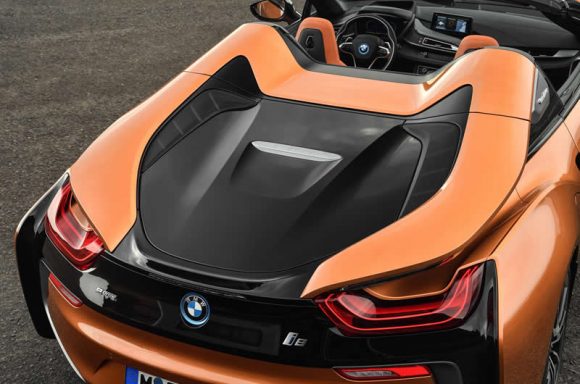 Unlike the 2+2 coupe, the BMW i8 Roadster has seats strictly for two. The space behind the front seats now reserved for the fabric folding roof and luggage storage. Multiple luggage compartments combine to provide 92 litres of space and BMW can supply optional bespoke luggage to make the best use of the space. The fabric roof is relatively conventional, folding back electronically underneath the rear deck. The glass rear window is separate and can be raised or lowered independent of the roof, much like that of the 6-Series Convertible. When the roof is lowered the rear window is raised by 30mm to act as a wind deflector, reducing drafts at high speeds.
The BMW i8 Roadster will be available to buy from the Spring of 2018. It comes at a £12,000 GBP premium over the coupe.