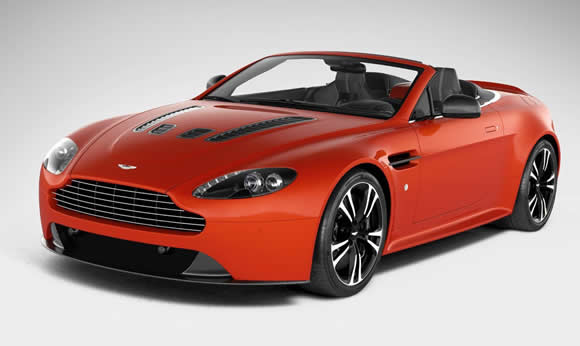 A Roadster version of the Aston Martin V12 Vantage seemed an inevitable development but it has taken three years to come around. Finally you can get your hands on a convertible V12 Vantage which should keep convertible fans happy while they wait for a drop-top version of the recently announced Vanquish.
The Aston Martin V12 Vantage Roadster's 5.9-litre engine is squeezed into the chassis with millimetres to spare and like the coupe has the bonnet louvres to aid cooling. The six speed manual gearbox is carried over too making this a proper drivers' car and we expect, quite a handful.
There are plenty of unique styling features to set the V12 apart from an 'ordinary' Aston Martin V8 Vantage Roadster, including a steeper rear boot spoiler, carbon fibre front splitter and various black coloured areas. The press photos are show a car in a rather unsubtle orange but more 'Aston' colours should also be available.
The Roadster has been leaked ahead of schedule so details remain sparse but it appears to be being built as a limited edition of 101 cars. Due to the limited nature it may only be produced for the European market but things may change – the V12 Vantage Coupe was initially a limited edition of 1000 cars for the European market only before being extended to North America. Expect British prices to be in the region of £150,000 GBP.