The Audi TTS competition is being launched as a limited edition car to celebrate half a million of the brand's TT models being sold.
The original Audi TT was launched as a Coupé back in 1998 and as a Roadster in 1999. The design kept close to a concept shown earlier in Frankfurt to much public acclaim. The TT was an instant hit thanks to its iconic styling. The TT Mk2 followed in 2006 with far less radical styling but much improved handling. The TT has remained popular as a compact sports car, not least the upper level performance options – the TTS and TTRS.
Although the name suggests a track-oriented version the Audi TTS Competition Roadster celebrates the car's success without performance enhancements. With a production run limited to 500 cars, it features special paint finishes, 19-inch "Rotor" design wheels and an upgraded interior. A choice of Imola yellow or Nimbus grey paintwork matches the black or grey roof and exclusive interior in Steel grey leather with Imola yellow accents. A purposeful fixed rear wing with bars in a matt aluminium-look finish further set the car apart from lesser TTs.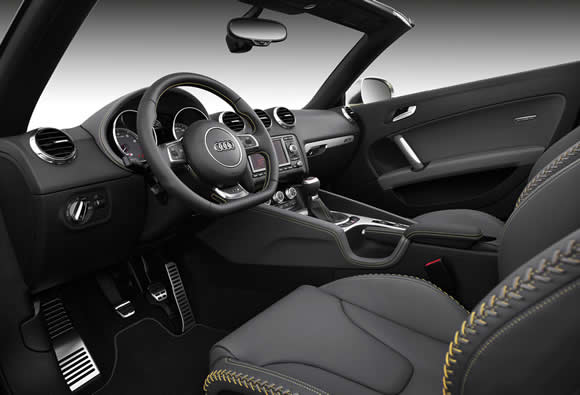 Inside the 'Impulse' leather package in steel grey uses decorative leather stitching with the cut edges dyed yellow, the same shade used for the other contrasting stitching. A leather multifunction steering wheel with a more strongly contoured rim and the rear parking system are also added to the standard TTS specification.
The 2.0 TFSI engine comes with the TTS Roadster spec of 272 hp (200 kW) power and 258.15 lb-ft (350 Nm) of torque. When paired with the six-speed S tronic gearbox (a six speed manual is also available) it is good for a sprint from 0 to 100 km/h (62 mph) in 5.5 seconds.
The extra charge for the Competition package is just 1,900 euros.