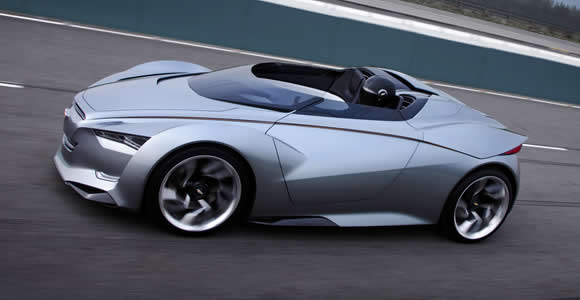 The futuristic Chevrolet Miray hybrid concept will make its european debut at the Frankfurt Motor show in September 2011. The Miray is a zero emissions look at the sports car of the future
Power comes from batteries and twin front mounted electric motors as well as a small petrol engine at the rear while many of the drivetrain components come from production models. Either front or rear wheel drive can be selected from the two 15 kW motors to suit the desired driving characteristics. Fuel storage is in the form of 1.6kWh lithium-ion battery which is topped up by regenerative braking. In addition, a 1.5 litre four cylinder turbocharged engine behind the driver combines with the electric power adds to the excitement.
The sleek body shell is made from carbon-fibre-reinforced plastics (CFRP) and carbon fibre and it is shaped to evoke many of Chevrolet'd design icons of the past.
Miray is Korean for 'Future' and indeed the car was unveiled at the Seoul Motor Show earlier in the year.