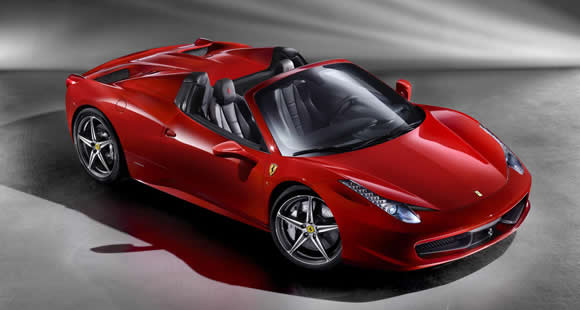 The first official information and images of the Ferrari 458 Spider were released today. Dynamically the car is much the same as the 458 Italia with power from a mid-mounted V8 but the Spider has a fully retractable folding hardtop – the first mid-engined car to do so.
Unlike the more sophisticated Ferrari California the roof of the 458 Spider flips over in one piece reminiscent of the 575M Superamerica but this time with a hard tonneau to neatly protect the under-side from collecting dirt and rain.

Visually this must be one of the best integrated hardtop convertible designs we have ever seen. The twin flying buttresses of the tonneau cover complete the rear of the roof with a retracting glass window between them. With the roof up the car looks surprisingly similar to the hardtop car although from the rear the differences are far more apparent. That's not a bad thing though, we prefer the look of the flat rear deck to the big window of the Italia.
According to Ferrari, the all aluminium roof makes a 25kg weight saving compared even to a traditional folding soft-top. Seems difficult to believe, but there's no arguing that the 14 second folding time is pretty impressive. The rear window also doubles as a wind diffuser with the roof lowered keeping cockpit draughts low enough to allow normal conversations to be held at speeds over 200 kph.
200 kph is well within this car's capabilities with power from the award winning 4.5 litre 570 bhp V8 in a chassis weighing in at just 1430 kg. A time of just 3.4 seconds is all that is needed to get to 100 kph (62 mph) before reaching a top speed of 198 mph (320 kph).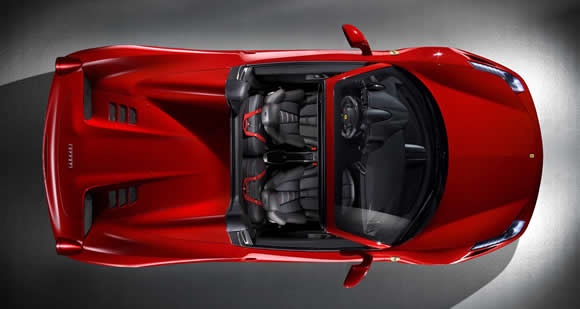 For all its clever design we can however see this car causing problems for Ferrari: If it drives as well as we have come to expect from the marque it may considerably cut into the sales of both the 458 Italia and the California. It may be just too good!