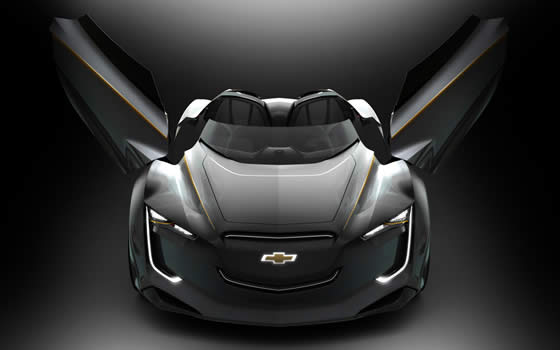 Chevrolet have introduced their Mi-ray concept car at the 2011 Seoul Motor Show. The roadster celebrates Chevrolet's 100-year heritage with a look to the future as GM rolls out Chevrolet across Korea.
Built almost entirely of carbon fibre and CFRP (carbon fibre-reinforced plastic) it is a small, light and purposeful roadster. The Mi-ray is propelled by two front-mounted 15-kW electric motors for quick acceleration and zero emissions in urban driving. The motors are powered by a 1.6-kWh lithium-ion battery that is charged through regenerative braking energy.
For performance driving, the Mi-ray's 1.5-liter four-cylinder turbocharged engine combines with the electric motors, providing spirited torque control to both the left and right wheels as needed. The high-tech engine, mounted behind the cockpit, drives the rear wheels while seamlessly integrating electrification technology that aims to define a new standard in the compact roadster segment.