The Citroën DS3 Cabriolet has been updated with slick new lights and a pair of energy efficient diesel engines.
When we reviewed the Citroën DS3 Cabriolet last year we found it an a fun and thoroughly modern car. The new headlights combining LED and Xenon technologies take this even further. Not only do the lights look good but they are also more energy efficient than conventional halogen headlights, using 35% less energy when dipped and 75% less in high-beam mode. They should also have around a twenty times longer lifespan.
The DS3 range has also gets Euro 6-compliant Blue HDi 100 and Blue HDi 120 engines improving both economy and performance. The smaller 100 can return up to 94 mpg UK (78.2 mpg US or 3 liters / 100 km) with 79 g/km of CO2 emissions while the more powerful 120 will do 78 mpg UK (65 mpg US
or 3.6 liters / 100 km) and produce 94 g/km of CO2.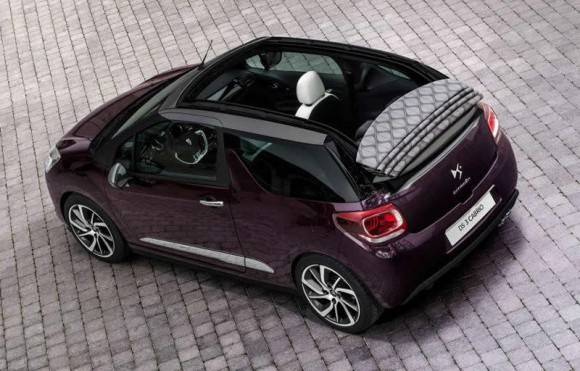 Selected markets will also get an automated manual 5-speed Efficient Tronic Gearbox (ETG) in the DS3 PureTech e-VTi 82 ETG. The paddle shift system uses a creep function and optimised software mapping to provide smooth starts to aid city driving.
Higher range cars will come fitted with an emergency 'Active City Brake' system which uses short-range radar to identify close obstacles and apply the brakes when the car is travelling below 20 mph. The windscreen mounted sensor is intended to prevent low-speed collisions in busy traffic where attention can lapse.
The extensive selection of personalisation options are to be further expanded to include Belle-Ile Blue and Pearl White paint colours, a laser-etched dashboard strip and some new 17 inch diamond-cut alloy wheels.
The DS3 Cabriolet is one of very few five-seat convertible cars, it has a class-leading luggage capacity and is keenly targeted at fashion conscious young people.