This stunning Mini roadster concept is to be shown at the prestigious 2014 Concorso d'Eleganza Villa d'Este event. The design created by a collaboration of MINI and Touring Superleggera combines classic sports car looks with modern details.
The compact roadster aims for a timeless style that takes the brand further while still being unmistakably a Mini. The wheelbase is extended but the short overhangs and classic grill remain. We think it is stunning and hope that they can manage to put it into production even if it is only a handful of high priced cars built to order.
While the bodywork of the Mini Superleggera Vision reflects road racers of the 1950s and 60s the electric drivetrain is very much twenty-first century. The design is focused on being clean and minimal cutting away the funky design elements that can be found in the modern Mini cars in a return to the original ethos of simple functionalty. Aluminium and leather feature throughout and the interior reveals the Superleggera construction method in places.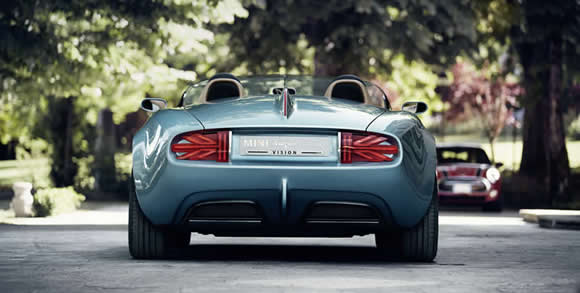 Touring Superleggera is an evocative name that has it's heart in classic sportscar design. The coach builder created and patented their lightweight Superleggera bodywork construction system of thin alloy panels over a framework of narrow tubes. The system paved the way for stunning curvaceous designs that were sleek and lightweight. The manufacturing technique survives in small numbers of hand crafted cars and the name continues as a brand for the company's exotic coach-built versions of performance and luxury cars.
Hopefully BMW Group will be carefully monitoring the response to the car and will take elements of the design forward for a new Roadster model in the future.