The Citroën DS3 Cabriolet whose launch we reported back in September is now on sale across Europe with the first deliveries being made from the 1st March.
The DS3 sees Citroën back at their best, designing cars that are unlike anything else on the road and full of innovation. This front-wheel-drive convertible has a fabric roof which impressively slides back between the window frames at speeds up to 75 mph. The design is thoroughly modern and a refreshing change form the retro styling used on many small convertibles. It also comes with an extensive range of options including seven body colours, three roof designs and nine wheel styles to choose from.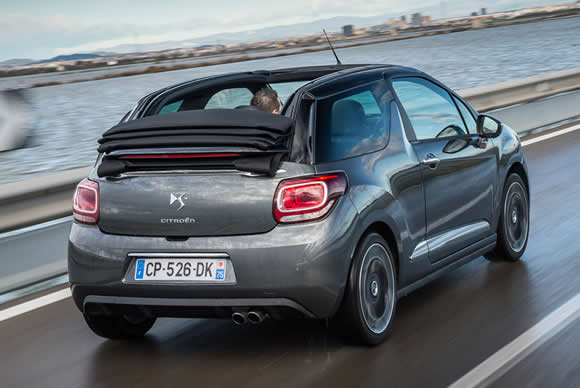 Funky styling aside, the DS3's trump card is the ability to take 5 passengers. It is a feature often overlooked by by manufacturers but this extra level of practicality will sell cars. The DS3 is not a big car and those back seats will be small but for larger families and school runs the Citroen opens up new possibilities that previously only the drastically different Jeep Wrangler Unlimited could fulfil. It also has the biggest load space in its class of 245 litres. The rear seats also fold to increase the possible luggage space. The tailgate also swings upwards to open rather than a conventional hinge to improve access.
Citroen have experimented with different fabrics for the roof material so in addition to the traditional black there is the option of colour changing blue/violet or monogramed grey canvas. The visual effect in the 'Infinite Blue' top is achieved by weaving three different coloured threads together, each of which reacts differently to lighting conditions. The roof's soundproofing is said to be comparable to the hatchback version.