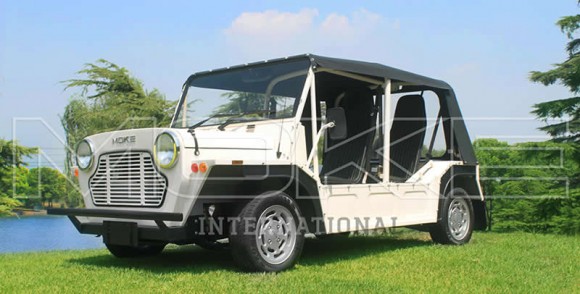 Australian owned Moke International have returned the classic Moke shape to production with a discretely modernised design. The minimalist concept remains but a modern drive-train with a choice of manual or automatic gearbox and a better braking system bring things up to date. The cars will be available in both left and right hand drive. Manufacturing is being done in China by Chery International and Sicar Engineering.
The classic BMC Mini Moke first went into production in the early 1960s as a utility vehicle based around standard Mini mechanics. The initial aim was to target military and commercial users, however its lack of ground clearance limited acceptance. Unexpectedly it caught on as a fashionable passenger car with thanks not least for featuring in the cult TV series The Prisoner. The lack of weatherproofing limited sales for the British climate and BMC (later Leyland) found warmer climates more suitable. The Moke became popular as a hire car on island holiday locations around the world. Production moved to Australia until 1981 whereupon it uprooted again for Portugal where sales finally dried up in 1993.
Moke International aim to begin sales some twenty years later starting with Australia with the car soon to be available in Thailand and the Caribbean with further distributors being sought around the world.