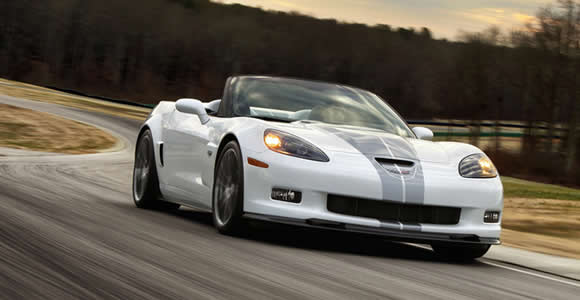 Marking 60 years of the classic Corvette Convertible the Chevrolet Corvette 427 Convertible Collector Edition is the best performing convertible car in the brand's history. Not only that but it is also this the final climax of the C6 generation of the Corvette which is to be replaced with an all new model in 2013.
The 427 of course, refers to the classic engine capacity of 427 cubic-inches or 7 litres in metric terms; the same LS7 engine seen in the high-performance Z06 coupe. Rated at 505 horsepower (377 kW) and 470 lb-ft of torque (637 Nm), it is the most powerful engine ever installed in a production Corvette convertible and only available matched to a six-speed manual transmission.
The Corvette 427 Convertible also shares the driveline and rear axle system with the Corvette Z06, a rear-mounted battery and standard Magnetic Selective Ride Control. Lightweight machine-face Cup wheels come as standard while Black Cup wheels or chrome ZR1-style wheels are also available.
Weight is cut down by use of carbon fibre panels for hood/bonet, fender and floor panels bringing the official curb weight down to a skinny 3,355 pounds or 1,522 kg. The result is a power-to-weight ratio of 6.64 (one horsepower for every 6.64 lb of vehicle mass) which Chevrolet claim betters the Ferrari California Convertible, Aston Martin DBS Volante and the Porsche 911 Turbo S Cabriolet.
The sprint from 0-60 mph could be covered in an estimated 3.8 seconds, while the standing quarter-mile time is reported as 11.8 seconds. The Corvette 427 Convertible will have potential for a top speed of over 190 mph.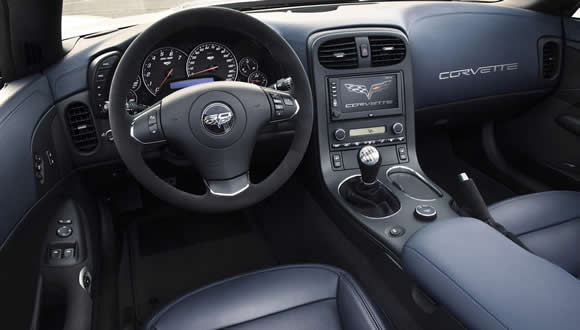 The C6 Corvette Convertible will go down in history as a car that revived the brand. It returned manageable handling to the straight line performance of previous models. This was done by cutting down the weight while developing a chassis that provided massive grip. It offers the driving excitement of an old-school convertible super-car and performance figures that match the best high performance cars from Europe and Japan.