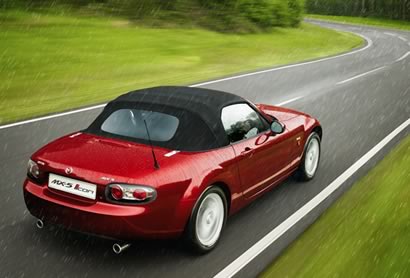 UK convertible car owners may not be getting their money's worth this summer, but Mazda MX-5 Miata drivers can raise a smile, as they stormed to the top of a study of reliability in convertible cars.
According to Warranty Direct's Reliability Index, the most comprehensive car reliability study in the UK, the Japanese pocket rocket is on top of the pile of Britain's most dependable top-down motors, with an average repair bill of £255.59, and an Index rating (calculated as cost of repair vs number of visits to the garage) of just 7.29.
This compares with an average convertible Reliability Index (RI) rating of 116.6, and an average overall repair bill of £401.64. In a Warranty Direct study of 450,000 cars world-wide earlier this year, the largest survey of its kind, Mazda reigned supreme overall.
Known for their reliability and efficiency, it was unsurprising to find another Japanese car company at the top of the table, with Honda's S2000 coming in second place, with an impressive RI rating of 34.31 and a lightning quick average repair time of just 1.42 hours.
The scene at the other end of the table is a different story, and goes to show how far Audi have come over the past 15 years, with their Cabriolet (1992-2000) coming in with a disastrous RI rating of 416.21, with almost half of all problems relating to the axle or suspension. The venerable Cabriolet is, however, by far the oldest car included.
The other German giants had a mixed bag of results, with Porsche's Boxster coming in second to last place with an RI rating of 234.31 and the highest average repair cost of £831.58, suggesting that money doesn't always guarantee you reliability. BMW's popular Z3 came in a respectable fourth, with an RI value of 70.78, and was closely followed by its rival the Mercedes CLK in fifth.
The French contingent was well represented by Peugeot, whose 206CC came in an impressive third, with an RI rating of 51.93 and the lowest average repair bill – £225.76.
Model

Average
Age
(years)

Reliabilty
Index

Average
Cost of
Repairs

1
Mazda MX-5
4.55
7.29
£255.59
2
Honda S2000
4.84
34.31
£343.12
3
Peugeot 206CC
4.02
51.93
£225.76
4
BMW Z3
5.25
70.78
£459.89
5
Mercedes CLK Convertible
3.15
85.76
£428.81
6
Jaguar XK8
5.84
87.65
£313.04
7
MG TF
2.25
90.93
£433.00
8
Volvo C70
4.29
92.35
£243.02
9
Saab 93
4.87
111.12
£370.38
10
Porsche Boxster
4.33
234.31
£831.58
11
Audi Cabriolet
6.48
416.21
£513.84
Some of the models analysed have recently been replaced by new generations, or discontinued altogether by the manufacturer, but remain popular used car buys.