A limited edition of just six Pininfarina designed Ferrari Sergio Roadsters are being built to celebrate 60 years of partnership between the Cambiano based design studio and coachbuilder, and the esteemed Italian sports car maker.
The car gets its name from Sergio Farina, the son of founder Battista "Pinin" Farina and the man responsible for the development of many of the company's most famous designs. His contributions included work on the classic Ferrari P4/5 and 206 Dino, as well as more recent 360 and F40 models.
The Ferrari Sergio is based on the platform of the Ferrari 458 Spider with the latest 605 horsepower version of the 4.5 litre V8 engine. The styling really sets it apart from the 458 though and is clearly influenced by some of the classic Pininfarina concepts produced under Sergio's rein.
The sleek front and rear body sections are joined by a matt black panel which intersects the car giving it an unmistakable character. Similarly a black-backed clear panel runs across the front of the car joining the two headlamps. The design is stunning aesthetically but also functional with a slippery low-drag outline and down-force creating details. Round rear tail lights, flying buttresses and gold coloured wheels are all nods to historic Pininfarina designed Ferraris of the past.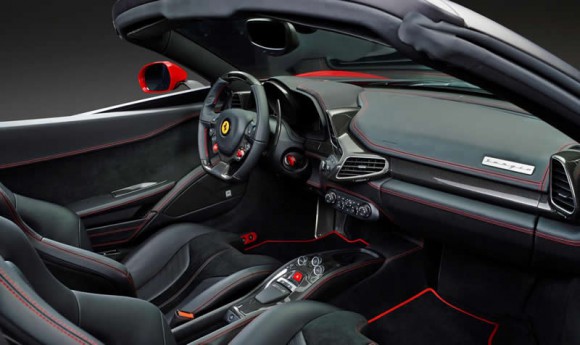 The interior design is neatly trimmed yet functional and influenced by track cars with the two seats backing directly onto the engine compartment.
Performance is as exhilarating as you might expect from a 458 Spider based car with a 0-100 kmph (0-62 mph) time of just 3 seconds and an unspecified top speed comfortably out of the range of most roads or even racing circuits.
Each of the six cars which, as you might expect, are already sold for an undisclosed price, was configured individually at Ferrari's Tailor Made atelier in Maranello. The first Ferrari Sergio has now been delivered to the United Arab Emirates to take its place in the SBH Royal Auto Gallery at Abu Dhabi's Yas Marina Circuit. This car was specified in three layer red paintwork and a black leather and Alcantara interior finished with red stitching. Carbon fibre dashboard and door well trim round off this classically sporting cockpit.