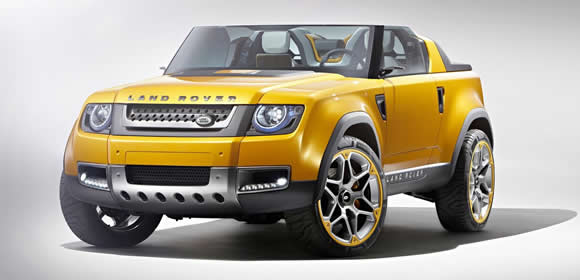 With the Land Rover Defender being based on a 60 year old design the company are finally coming around to designing a replacement. The problem is that the old Defender is so well loved, robust and capable it's a hard act to follow.
The first idea off the drawing board for public approval is the DC100 and convertible version the DC100 Sport. Both made their debut today at the Frankfurt Motor Show and so far seem equally loved and hated. The Land Rover DC100 Sport Concept is hard to imagine anywhere but a California beach with its bright metallic yellow paint and huge alloy wheels. The wheels in fact look strikingly impractical for a Defender with a tiny profile which would be very unforgiving on rough ground.
The basis of the design however is solid with small front and rear overhangs, high ground clearance and a wide stance. Underneath the bodywork is a mixed-alloy chassis with a 100 inch wheelbase. Power comes from a 2 litre four cylinder petrol engine, an eight speed transmission and a transfer case providing a wide spread of high and low ratios.

Among the traditionally tough, hardwearing and practical elements of the car are some modern features including a touch screen information system which is not only removable but also water and shock resistant. There are also cameras mounted on the outside of the vehicle to help guide you through tight situations and the Terrain-i early-warning system that creates a virtual 3D visualisation of the ground ahead and warns the driver of potential obstacles. There is even a sonar-based system for assessing water depth when driving through floods, bogs or rivers. The technology sounds great but hardcore Land Rover fans will be hoping for a basic, stripped out model with less to go wrong when they are half way up a mountain or across a desert.
The DC100 Sport is clearly aimed at sports enthusiasts but seems a little dated in execution. The looks seem more Baywatch than Base Jump to us. The idea to make a modern, lightweight and hugely capable off-roader will sound great to many and once the design is worked up into a more realistic offering we can see it selling well worldwide. For now the only way to enjoy top down driving off road will be in that other 4×4 car with historic roots – the Jeep Wrangler.