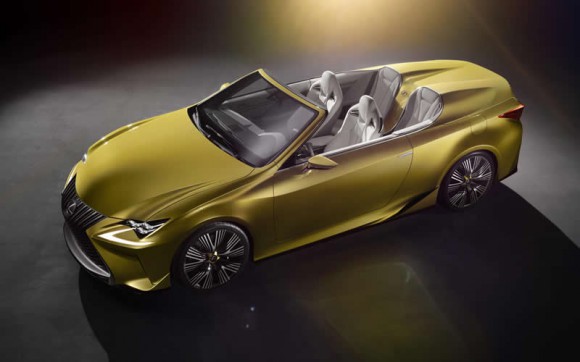 Lexus are keen to get the public's attention for their Lexus LF-C2 four-seat convertible car concept with a teaser campaign and now a Los Angeles Auto Show debut. Perfect for the West Coast market this premium sports convertible promises the speed to match the futuristic styling.
Clearly a concept, identified by the tiny exterior mirrors and lack of roof, yet the Lexus LF-C2 Concept could resemble a future model if the public reaction is positive enough. The basis appears to be that of the Lexus RC coupe. While it looses the attractive roofline the design takes it another step forward in the trend of big grilles, multi-angled surfaces and swooping curves.
Interior style is simple and elegant with the now common, large centrally mounted LCD display taking the place of many of the controls. Rear seat space is limited to two with a body-coloured panel sweeping down between the occupants. The full size racing style front seats suggest that this is a performance car and the rear leg room tells us that up-front is where you'll be finding most of the comfort. The gold body colour runs through to the centre console which is also leather trimmed in white with electric blue details. An analogue clock sits in the centre of the dashboard as the only nod to traditional motoring from this thoroughly modern design.
For now, there is no sign of a roof for the Lexus LF-C2 Concept but if one has been considered for this design then the one piece rear deck suggests that it will be a folding hardtop. More details may have been finalised by the time this concept reappears at future shows. The rear of the car is were there is the most innovation with the family resemblance from the LFA supercar clearly apparent.
The sporty looks may not be all show as the 5 litre 450bhp V8 engine and eight-speed automatic transmission from the Lexus RC F will surely fit here just as well as in the coupe.