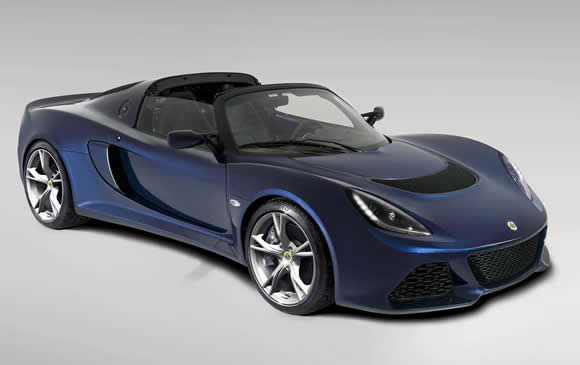 The Lotus Exige S Roadster unveiled at the 2012 Geneva motor show has been given the go-ahead for production and will be available as soon as this summer.
The Exige was designed as a high performance model in the Lotus range of sports cars. The first model was released in 2004 but it has not been available in convertible form until 2013. The Exige chassis is a development of that used in the Elise model and so was designed for a convertible and no additional stiffening was needed. As a result the Exige Roadster is actually 10 kgs lighter than the hardtop thanks to a lightweight factory-fitted soft-top roof and the rear spoiler.
Powered by the same 350hp Toyota supercharged 3.5 litre V6 as the Coupe the Lotus Exige Roadster promises supercar levels of performance and handling. At just 1100kg Lotus say that it is one of the lightest 6-cylinder convertibles in the world. The 0-62 mph sprint will disappear in just 4 seconds and the car will rapidly continue up to a limited top speed of 145 mph. The possible 170+ mph top speed being reduced to protect the roof from being ripped apart.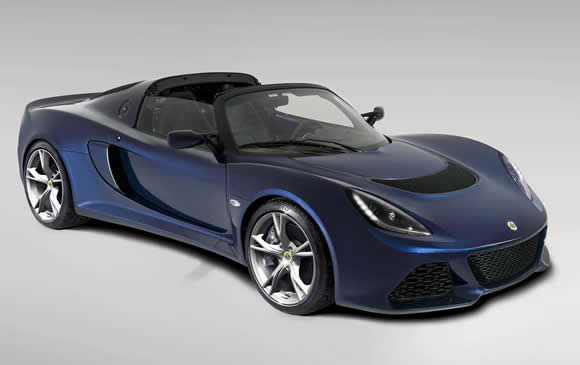 A six-speed manual will be standard while Lotus's Serial Precision Shift automated manual will be available as an option. A Lotus Race Pack may also be available with four-mode Dynamic Performance Management, to tweak the set-up for ultimate track performance.
Customers will be able to choose between a stripped out, racing style interior or go for a more comfortable, road use cockpit. Prices have yet to be released but Lotus promise it will be extremely good value.