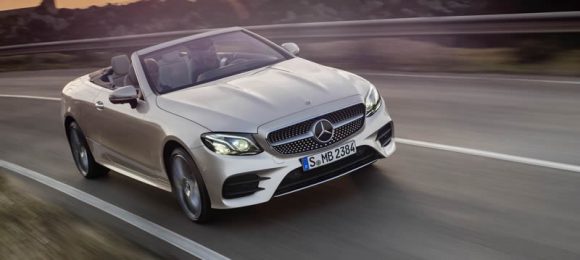 Mercedes has faith in the convertible car it seems, with the E-Class Cabriolet filling the last gap in a range of 6 different models. Unsurprisingly the E-Class is sized between the C-Class and S-CLass Cabriolets as the third four-seat drop-top in the range. It shares the family styling too which makes it a little tricky to tell from its siblings.
Despite Mercedes insistance on regular use of the word 'sporty', the design is very much focused on luxury. As with the previos generation E-Class much effort has been made to ensure that your hair stays in place even at high speeds. The innovative AIRCAP system with a raising panel above the top of the windscreen is still available and goes a long way to cutting out the backdrafts. There is a more conventional wind deflector too, which rises up electronically. Finally for ultimate luxury, the AIRSCARF option blows warm air down your neck with the AIRSCARF option.
Interior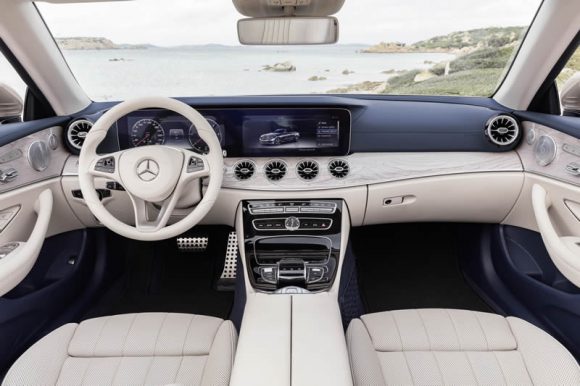 The E-Class Cabriolet interior is as oppulent as you might expect and the level of technology is brought right up to date. A central colour display comes as standard but the optional wrap around screen made up of two high-resolution displays right across the dashboard is the most impressive feature. This allows different designs of virtual instruments to be shown depending on your mood or taste. Touch controls on the steering wheel allow you to make adjustments with iPad style finger-swipes. Rear seat passengers are not forgotten either, with increased leg and shoulder room. They also get heated seats keeping them happy even on cooler days.
Your neighbours will be impressed too. The premium badge and trick LED lights will make the curtains twitch but the party peice is the display put on by the rear lamps as the owner approaches the car. Unseen however, will be the clever 'Magic Vision Control' windscreen wipers. These have sophisticated washers that avoid splashing occupants when the roof is down.
4MATIC all-wheel-drive
For the first time on a mid-range Mercedes cabriolet, there is the option of 4MATIC full-time all-wheel-drive to ensure this really is a convertible for any weather. All versions come with the wafty 9G-TRONIC nine-speed automatic transmission. Engine options have yet to be announced but you can expect them to be similar to the E-Class coupe. The fabric roof is thickly insulated against temperature and noise and comes in a range of colours.