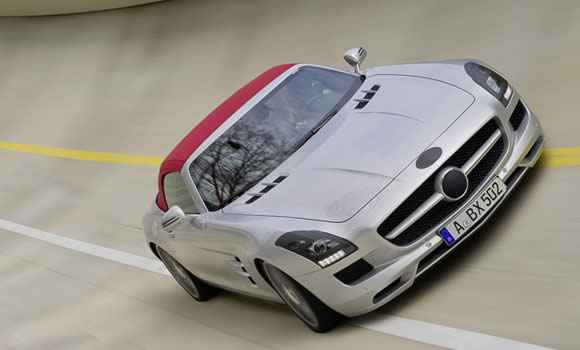 Right on cue (see the last post) Mercedes Benz has revealed the first sneak peak of their SLS Roadster. The released pictures show the car undergoing testing ahead of the official world debut at Frankfurt motor show coming up in September. We think it's far better looking than the coupe.
The gull-wing doored coupe and this roadster were designed and developed side by side but for maximum marketing impact and to allow time for Mercedes to ensure the convertible drives as well as it looks there has been several months between them. All fine with us if they can make it as good to drive as the coupe.
Careful design changes to the aluminium spaceframe have added stiffness while only increasing the weight by 2kg. The soft-top roof has threes layers wrapped over a magnesium, steel and aluminium frame and opens in just 11 seconds. The fabric roof has been tested to destruction through 20,000 cycles on a test rig and is designed for speeds up to the 196mph top speed with no intrusive vibrations or wind noises. One thing it won't keep out though is the snarl of the 563bhp AMG V8 engine.