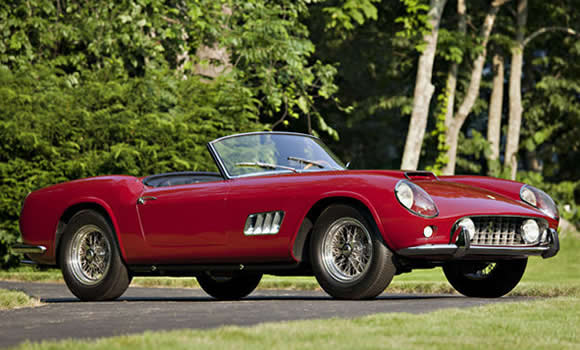 The Monterey Car Week is a Mecca for exotic and classic car enthusiasts from around the world. The world's finest cars are on show and sold at events around the California peninsula including the Rolex Monterey Motorsports Reunion, Pacific Grove Concours Auto Rally and the famed Pebble Beach Concours d'Elegance.
For 2012 the passing of Carroll Shelby was honoured with a fantastic display of original Shelby Cobras on the Monterey Green. Examples Included the first Cobra ever built, the first competition model and the rare drag car known as the Dragonsnake.
Overall Best of Show at Pebble Beach went to a magnificent 1928 Mercedes-Benz 680S Saoutchik Torpedo owned by Paul & Judy Andrews of White Settlement, Texas. The car was selected from over 220 vehicles on display including the 11 other vehicles within the Saoutchik Coachwork class.
Powered by a supercharged inline 6 cylinder 6.8 litre engine the 680 Type-S was a successfully by the likes of Rudolf Caracciola who won the 1927 Nurburgring race in one. This particular car however has elegant bodywork created by the French coach builder Jacques Saoutchik.
The 680S Saoutchik Torpedo was shown at the 1928 New York Auto Show before being bought and regularly used by Frederick Henry Bedford then subsequently stored by his family for 30 years. The car was restored in the 1980s and came into Andrews' hands in 2010 whereupon he began the work to bring the car to show winning condition.
The highlight of the Pebble Beach auction which saw several classic convertibles was the sale of a 1960 Ferrari California 250 LWB Spider Competizione. The Spider, one of only nine competition cars made was sold for over $11 million (US). The rare Ferrari convertible with only two owners came from the Sherman M. Wolf collection, who had bought the car from its first owner in 1979. At the same auction a Ferrari 340 MM Spider was also sold for almost 4.5 million Dollars.
New convertible cars on show included the BMW Zagato Roadster concept and a Bugatti Veyron 16.4 Grand Sport Vitesse with a special colour scheme in tribute to a classic 1928 Type 37A.