The convertible version of Audi's new TT sports car has been revealed ahead of its Mondial de l'Automobile Paris Motor Show public unveiling. The styling is sharpened up and brings back some of the details of the original car that made it so popular. The main differences however are under the skin. Based on the MQB platform with lightweight aluminium and steel construction it is new from the ground up but the familiar layout remains.
At launch the Audi TT Roadster will come in a choice of 2 litre petrol or diesel engines including the all-wheel drive TTS quattro performance model with a 310PS power output. While the lower powered cars will be entertaining enough for most it is the TTS that gets the headline attracting figures that are much improved over the outgoing model. One area it looses out to the TDI model is in fuel economy. The diesel Roadster manages an impressive 65mpg on the combined cycle with CO2 emissions of just 114g/km while still attaining proper sports car performance figures of 0-62mph in 7.3 seconds and a top speed of 147mph.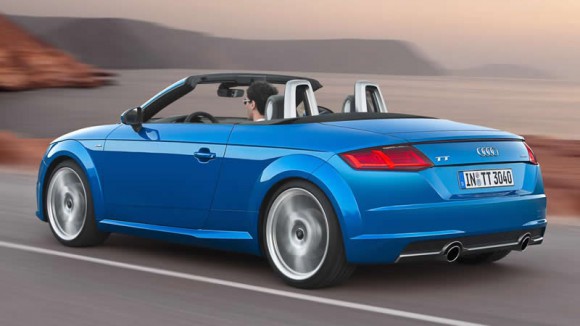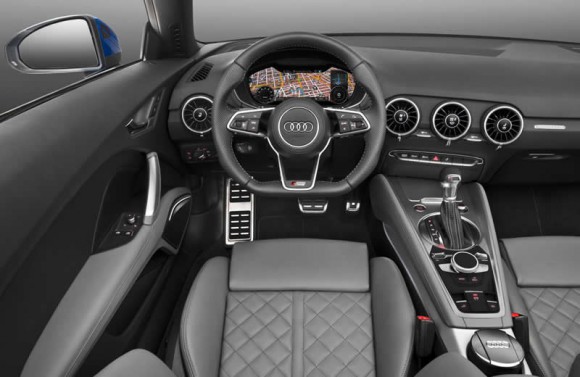 All models get the Audi 'virtual cockpit' with a 12.3-inch, high resolution LCD display that completely fills the driver's instrument panel replacing the conventional dials. The driver has a choice of two display modes: 'classic view' where the speedometer and rev counter are in the foreground and in 'infotainment' mode the virtual instruments are smaller. The remaining space is then used for other functions, such as the optional GPS navigation. The technology package also adds the Internet to the car via Audi connect. This gives the option to use features such as Google Maps and Street View, the latest news, flight and train information, and price-graded refuelling locations. It even allows you to stream music and access to social media services such as Facebook and Twitter.
The updated folding fabric roof mechanism uses lightweight materials to keep the centre of gravity low. An insulating acoustic top is fitted as standard which cuts down noise and helps take the edge of extreme weather.
TT Roadster models are available to order in the UK from mid-November priced in GBP from £31,955 to £37,555 on-the-road. First deliveries will arrive in March 2015.