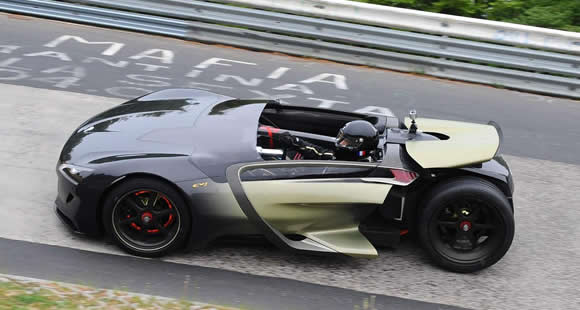 Peugeot have made their first attempted to set a record on on Germany's infamous Nürburgring-Nordschleife circuit with their EX1 electric car. Stéphane Caillet, driver and tuner-technician from the Company's Research & Development Centre, was at the wheel of the concept car, which covered the circuit's 20.832 kilometres (12.944 miles), knocking a full 5 seconds off the previous electric speed record for a lap.
The huge 73 bend track with 300 metres of altitude difference has a reputation for being the toughest circuit in the world and was the venue for the German Grand Prix up until the mid-1970s. It has also long been the top proving ground for the world's performance cars.
The Peugeot EX1 beat the electric speed record by putting in a lap time of 9 minutes, 1.338 seconds (9:01.338) at an average speed of 138.324 km/h (85.951 mph), despite unfavourable weather conditions.
The previous electric speed record on this circuit was the time of 9:51.45 seconds clocked in 2010. The record achieved by the convertible EX1 was formally recognised by WIGE Performance, the official time-keeping body for the Nordschleife.
Although there is very little chance of the EX1 roadster ever seeing production it is a clear indicator of Peugeot's intentions towards electricity as a power source for future models. It also shows a a continued interest in futuristic styling for their convertibles.