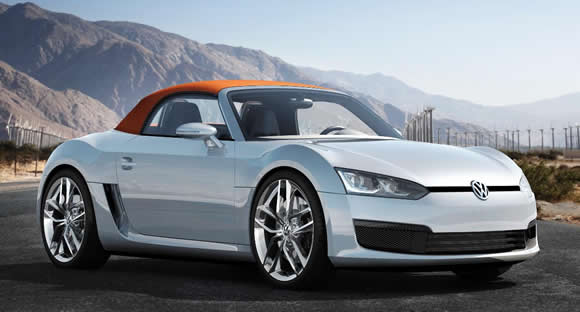 A report in Germany's Auto Motor undo Sport suggests that the Audi R4 Roadster, previously expected to break cover in the coming months has been cancelled. The car which had been confirmed by Audi CEO Rupert Stadler is said to be at risk of cannibalising sales of both the Audi TT and Porsche Boxster – both made by the VW Group.
The Audi R4 was believed to be based on VW's Bluesport concept (pictured) which is the planned platform for future cars from Volkswagen, Audi, Porsche and possibly even Seat. This news puts the whole platform's future into question but with the VW Bluesport Roadster being the car with the highest potential sales figures it may well continue development as a car to challenge the Mazda MX-5 Miata as a no-frills roadster.
Audi had planned the R4 as a model to fit in between the TT and R8 Supercar as a high performance mid-engined roadster. This would indeed have challenged the Porsche Boxster whose sales figures are currently sluggish.