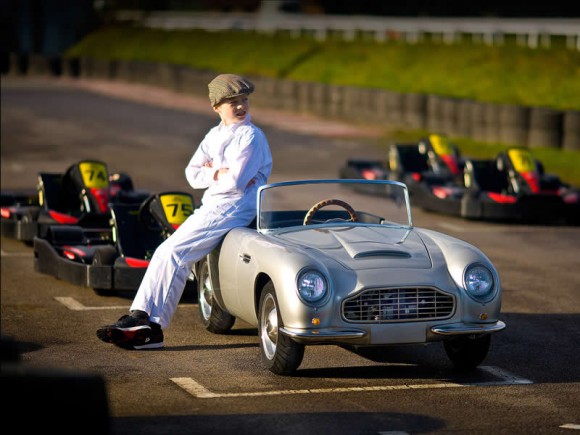 With classic Aston Martins fetching prices steadily heading into the stratosphere getting behind the wheel of something like a DB5 is becoming restricted to the privileged few. One alternative now comes in miniature. The DB Convertible Junior sold by Nicholas Mee & Co a West London Aston Martin dealer is a fully functioning petrol engined car but in reduced size.
Although designed for use by children over 10 years of age, there is enough room in the cockpit for an adult and can be driven comfortably by people of all sizes thanks to adjustable pedals. The top speed of 46 mph can be restricted downwards to keep boy-racers of all ages under control.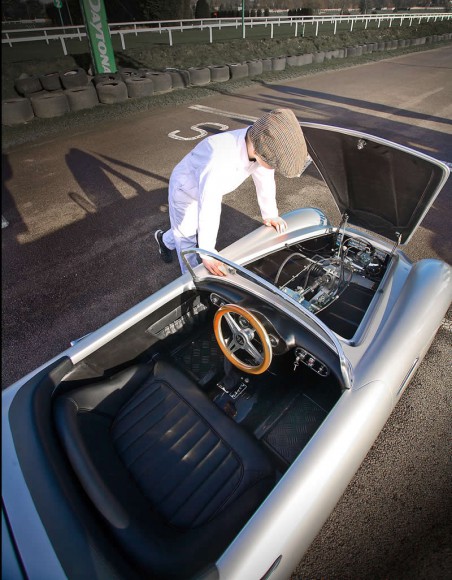 The DB Convertible is produced to an impressive standard with an 1100cc four-stroke petrol engine started by a key operated electronic ignition. There are hydraulic Brembo disc brakes and a 3-speed semi-automatic gearbox within the steel chassis and this is clothed in composite bodywork styled to replicate classic Aston Martins of the 1960s. It is the stuff childhood dreams are made of and likely to appeal to parents who perhaps own the full sized equivalent.
Customers can choose from a wide range of colours and the interior can be trimmed in vinyl or leather and is finished with a wood-rimmed steering wheel. There is even a fully operating set of horn, lights and indicators to ad authenticity.
Discerning young drivers will have to find £16,500 (GBP) to get their hands on this stylish baby sports car as well as a suitable private road or track on which to use it.