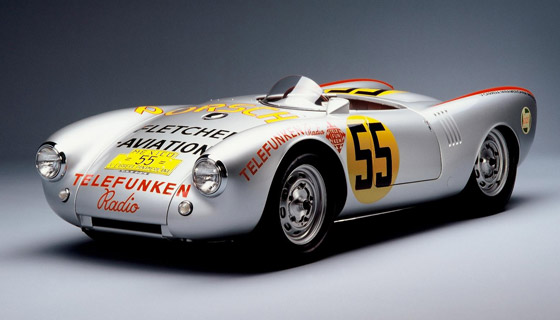 The rumours are strong of a new Porsche roadster to fit beneath the Boxster in the range. The new car will be based on Volkswagen's BlueSport roadster platform which has been under development for some time.
The Boxster has been a massive success for Porsche bringing the brand mainstream success while boasting best-in-class handling and quality. 300,000 cars have now been sold on the Boxster/Caymen platform in 15 years and it's still going strong.
The new car is expected to be smaller and lighter than any other Porsche and have great environmental credentials. A mid-mounted engine, possibly a flat-four will produce around 200 horsepower to the rear wheels through a PDK dual-clutch gearbox. A fabric roof will keep costs down making the new Porsche invitingly affordable.
The name? The one floating around at the moment is 550 – harking back to the historic sports racer (pictured).
There will also be a VW BlueSport Roadster but this should be differentiated with lower levels of power and respectively a lower price. We wouldn't expect to see either car on the roads until at least next summer.