When the original Range Rover Evoque Convertible concept car showed up it certainly raised some eyebrows. It was an alarming new direction for the normally conservative British brand. In the often cold and damp British climate, it is hard to think why anyone would want it but that's not where most of these new cars will turn up.
Imagine the new drop-top Evoque cruising down a Californian coastal road and it suddenly starts to make more sense. The combination of off-road ability, chunky good looks and a convertible roof is not new, but it has certainly never been done with such a premium vehicle. Range Rover brings new levels of fashionable sophistication to the beach-front-set and the rapidly growing SUV market. The Nissan Murano Crosscabriolet and Jeep Wrangler look rather down-market in comparison.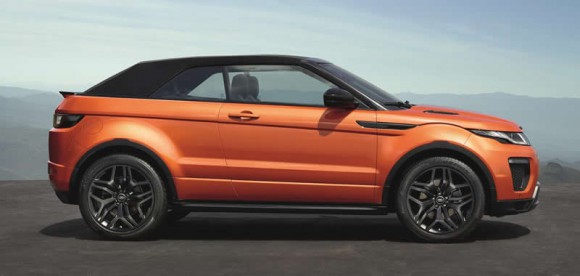 A conventional fabric roof was chosen for those occasional rain showers or night-time parking situations, but this is one convertible made for attracting attention and it will do this best with the occupants soaking up the sun. Fortunate then that it will fold away out of sight in just 18 seconds at speeds up to 30 mph without hogging too much of the 251-litre luggage space.
In tune with this car's lifestyle focus, it debuts Jaguar Land Rover's new InControl Touch Pro infotainment system. This offers the latest touchscreen 3D navigation, smartphone integration and premium sound system.
The Si4 240 horsepower turbocharged petrol engine and nine-speed automatic gearbox are likely to be America's first choice but the diesel options will also be fitted into the car for regions where they are more popular. Should drivers stray onto the beach or a desert track they will be comforted to know that Land Rover's Terrain Response System comes as standard as does Wade Sensing should the tide come in unexpectedly.
Pricing is set to start at £47,500 (GBP) in the UK for the TD4 HSE Dynamic model. Along with an attractive options list, the high price tag should ensure the Range Rover Evoque Convertible remains exclusive.